With her delicate touch, trademark shimmering lilt and ear for authentic ornamentation, Karen Ashbrook is considered one of the finest Irish hammered dulcimer players anywhere. Add her Irish flute and pennywhistle and you have the consummate Irish musician.
Irish reviewer John O'Regan calls her recordings "Celtic music for the mind and body." In addition to her solo recordings, her duo and Irish band recordings are: Celtic Cafe with Paul Oorts; and with Irish band Ceoltoiri - Women of Ireland, Silver Apples of the Moon, Celtic Lace.
"Karen has long been something of a heroine to me... Her style is at times traditional, then moves surprisingly at a tangent, making it more interesting in an unexpected way, and her whistle playing is excellent."
~ Irish Edition, Philadelphia
How to Order
There are several ways to order recordings from Maggie's Music. Click on the CD title below and you will go to a new page to order directly from Maggie's Music through PayPal, or download from Karen's music from iTunes or Paul & Karen's music from iTunes, and CDBaby. Or MAIL order form. Learn more...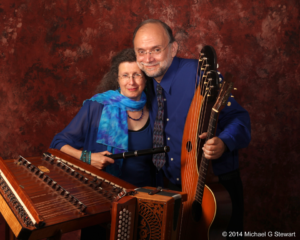 Karen Ashbrook & Paul Oorts- Irish/ Belgian Duo
Karen's solo recordings:
Karen & Irish band Ceoltoiri:
Also appearing on...