HESPERUS

Early American-Early music ensemble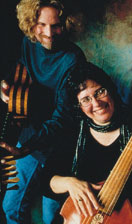 [
Jump to CDs ]
The vision of Hesperus is innovative, multi-cultural and historically informed early music ensemble. With impressive credentials in early music, they are also one of the nation's first, and most important, performers of "chamber folk" music which brings the energy and spirit of traditional music to virtuoso performances on folk and early musical instruments. The group recorded the acclaimed Early American Music series of 4 recordings for the Maggie's music label that are best sellers in their genre and featured in museums stores such as America's Smithsonian Institute and Colonial Williamsburg. The recordings feature the virtuoso performances whose members have performed in the Washington D.C. Folger Consort at Washington D.C.'s Folger Shakespeare Library.
"Engaging stage presence with exceptional imagination…irresistible!" -- The Washington Post
Tina Chancey (see duo photo above with Hesperus member, Grant Heried) is music director of Hesperus.

A multi-instrumentalist specializing in early bowed strings from the rebec and vielle to the kamenj, viol and lyra, she has received grants from the National Endowment for the Arts to support solo performances on the pardessus de viole at the Kennedy Center and Weil Recital Hall at Carnegie Hall. Dr. Chancey received her PhD in Musicology from the Union Institute. Her articles on early music appear in scholarly and popular publications, and she has recorded for a score of labels from Arabesque to Windham Hill.
"The ultimate crossover group...a postmodern medley of fun"- Arizona Star
How to Order
Tina Chancey with Scott Reiss (1951-2205)
About Scott Reiss
There are several ways to order recordings from Maggie's Music. Just click on the CD title below and you will go to a new page that allows you to order directly from Maggie's Music through PayPal, or download from iTunes, CDBaby, and Amazon. You may also order by fax or mail using the FAX/MAIL order form. Learn more...

The Early American Music Series - 4 CDS
featuring Hesperus Early Music Ensemble (PDF 867kb)
The CDs
More CDs by Tina Chancey and Hesperus
Also Appearing on...