A musical patchwork of hope and healing, longing and loss with airs and ballads, Irish jigs, Appalachian fiddle tunes, marches, spirituals and hymns, and parlor music from the time of the American Civil War. It's a time of time of sharp contrasts and shifting moods brought to life by HESPERUS early music ensemble and its guests on fiddle, recorder, oboe, pennywhistle, banjo, guitar, mandolin, mouth bow, hammered dulcimer, bass and bodhran.
MM236 Bios (2 pages) Hesperus Early Music Ensemble & Guests
Maggie's Music Early American Music Series, now 5 CDs! (flyer)
A Civil War Scrapbook (MM236)
An Early American Quilt (MM235)
Colonial America (MM227)
Early American Roots (MM216)
Celtic Roots (MM220)
It's the nimble balancing of fidelity and freedom that makes this musical history tour so appealing. ~ The Washington Post
Their approach gives early music a vibrant excitement…a fun mix of early and old time music. ~ The Evening Post/News Courier, Charleston, SC
Musicians
HEPSERUS early music ensemble
Tina Chancey - Director, fiddle , viol
Bruce Hutton - guitar (2, 15), mouth bow, harmonica, mandolin (1, 17)
Zan McLeod - guitar
Guest Musicians:
Kathryn Montoya - baroque oboe (1, 5, 11), recorder (4, 5, 6 8), pennywhistle (3, 7)
Matthew Olwell - bodhran (13), cajon (3, 7), body percussion (16)
Charlie Pilzer - bass (2, 3, 5, 6)
Chris Romaine - banjo (6, 15), fiddle (2, 17)
Maggie Sansone - hammered dulcimer (3, 5, 6, 12, 13)
BIO: HESPERUS early music ensemble were artist-in-residence at the Smithsonian Institution's National Museum of American History; featured at Monticello and Colonial Williamsburg; in the film Sleepy Hollow and at President Clinton's celebration of Thomas Jefferson's 250 birthday. Tina Chancey, Director, is a former member of the Folger Shakespeare Library's Folger Consort. HESPERUS' Early American Music CDs on the Maggie's Music label are considered bestsellers in their genre, carried at historic museums and  now adds their fifth recording in this series A Civil War Scrapbook ( MM236).
Credits:
Artistic Director, Producer: Tina Chancey;
Executive Producer: Maggie Sansone;
Engineer, Co-Producer: Charlie Pilzer,
Airshow Mastering, Takoma Park, MD.
CD booklet: Maggie Sansone
Art Director, cover design: Viki Garte
Graphic artist, booklet design: Tina Paul: Graphic Artist.
Photo Credits, Cover Photo: Misty Blue Ridge by Al Petteway;
Flag: The Iron Sides, U.S. Naval Academy Museum, Annapolis, MD;
Civil War Envelope: Library of Congress, Washington, DC.
About the CD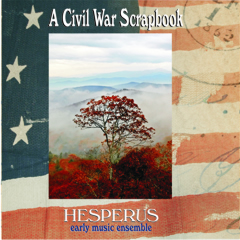 When Johnny Comes Marching Home

Hesperus

1:18

Booth Shot Lincoln

Hesperus

0:58

Hail to the Chief

Hesperus Early Music Ensemble

0:37

Washington's Hornpipe

Hesperus Early Music Ensemble

0:34

Wondrous Love

Hesperus Early Music Ensemble

1:04

All Quiet Along the Potomac Tonight

Hesperus Early Music Ensemble

1:08

Rakes of Clonmel/Humors of Tipperary

Hesperus Early Music Ensemble

0:58

Maggie Lawder

Hesperus Early Music Ensemble

1:05

Isle of Sky

Hesperus Early Music Ensemble

0:51

Hold on to God's Unchanging Hand

Hesperus Early Music Ensemble

0:43

Beautiful Dreamer

Hesperus Early Music Ensemble

0:58

Shule Aroon

Hesperus Early Music Ensemble

0:59

Scarce of Tatties/Lincoln and Liberty/Irish Washerwoman

Hesperus Early Music Ensemble

0:50

Minstrel Boy

Hesperus Early Music Ensemble

0:42

Yellow Rose of Texas/Girl I Left Behind Me/Arkansas

Hesperus Early Music Ensemble

1:10

Little Rabbit/Hop High my Ladies

Hesperus Early Music Ensemble

0:44

The Eighth of January

Hesperus Early Music Ensemble

0:50