The southern Appalachian mountains come alive in this recording of original compositions and traditional mountain melodies played on acoustic guitars, mandolin, Celtic harp, banjo, fiddle, Irish bouzouki, fretless bass, vocals and percussion.
Al & Amy are an Grammy award-winning performing arts ensemble who create music for a new generation with a brilliant convergence of Celtic and American stylings. (53:06 minutes).
Also see their Appalachian Christmas CD: Winter Tidings
How to order
"...an elegant tapestry of sound ...sprightly, sensuous, sunny, entrancing and wonderfully evocative."
~ The Washington Post
Tune List
Land of the Sky 2:58
Black Bear's Picnic 4:16
Shady Grove 4:39
Across the Blue Mountains 4:11 ( vocal)
Bobcat in the Brambles 3:03
Sunny Day 3:08
Pretty Polly 4:00
A Walk in the Woods 4:20
Western Highlands 3:30
Wayfaring Stranger 4:33 (vocal)
The Cuckoo 2:42
Swannanoa 4:44
Ryan's Rambles 4:05
Trillium Waltz 2:33
Liner Notes
The music in this collection was inspired by the beauty of the Southern Appalachian mountains. We both grew up near the foothills and escaped here whenever time allowed. We are so thankful now to be living amid these mountains year-round. What a gift it is to experience this magic together, to be amazed anew each day in this  land of lush enchantment.
1. Land of the Sky (Al Petteway)
In the early 1900's, Asheville, North Carolina began to be known as "The Land of the Sky." This popular moniker was used to entice tourists to the region and is in use to this day.
2. Black Bear's Picnic (Amy White)
A playful and funky jig dedicated to the fine black bears who visit us on occasion. We wish we could offer these amazing bears and their fine woodland friends a safer home. It is always a thrill to see big wildlife. But their sightings are also a reminder that we are surely encroaching on their habitat - and are doing so at an alarming rate. We are grateful to the many land owners in this region who are doing their best to protect the environment by converting their acreage into conservation easements and sanctuaries.
3. Shady Grove (Trad. Arr. - Al Petteway)
There are at least four similar melodies that go by the name Shady Grove and all are popular in the southern Appalachians. The melody used here is from an old tune called "Mattie Groves" which first appeared in print in the early 1600's. The ballad appears as a traditional tune in southern Scotland, England and America. We tried to give it a little flavor from each of these places in our rendition, starting in Scotland and ending in the southern Blue Ridge..
4. Across the Blue Mountains (Trad. Arr. - Al Petteway & Amy White)
We first heard this performed by The Muses, an Asheville a cappella group that includes Gail Forsyth, a Scottish singer and Judy Rhodes a seventh generation native to the western mountains of North Carolina. Judy told me about a book on Buncombe County NC called "The Heart of the Alleghenies", published in 1883. It is possible that this ballad cam from this region and is referring to the local mountains and valleys. The name Allegheny is from an Indian word meaning 'fine stream'. Many folks throughout history have referred to the Appalachians as the Allegheny Mountains but most scholars use the name given to the chain by Spanish explorer Hernando Desoto who was lost in the southern Blue Ridge in 1540 and had some run-ins with the Apalachee Indians.
5. Bobcat in the Brambles (Amy White)
I suppose a bobcat wouldn't be quite as pleased to be in the brambles as this melody would suggest, but I couldn't resist the alliteration. This here is a happy happy tune.
6. Sunny Day (Amy White)
Sunshine is good for the soul. This tune feels like a sunny day to us - joyous and likely to inspire an impromptu dance.
7. Pretty Polly (Trad Arr. - Al Petteway & Amy White)
Ballads are a great musical tradition in the Appalachians and some of the more popular ballads have dozens of variations in both melody and lyrics. Pretty Polly is one of the oldest English "Broadside" ballads. It was first published in the early 1700's and has since become an American standard. We have always loved the haunting quality of this ballad and couldn't resist putting our own spin on it.
8. A Walk in the Woods (Amy White)
First performed at a song circle on our wedding day, we revisited this tune to honor the forest of our new home. Nothing refreshes the spirit like a walk in the woods. I love how the interplay of our guitars sounds like a conversation among friends as they walk through the forest... 'look at this amazing wildflower'...'did you hear that beautiful bird call?'
9. Western Highlands (Al Petteway)
With a landscape so like the highlands of Scotland, it is easy to see why so many Scots migrated to this region. Their influence is evident everywhere, from the names of the towns along the range, to the music that took root and flourished here.
10. Wayfaring Stranger (Trad. Arr. Al Petteway)
This popular Appalachian spiritual is said to have origins in an old Irish folk song. It is one of the most famous southern spirituals and appears in 'The Sacred Harp,' a compilation of 'shaped note' songs first compiled in 1844 by Benjamin Franklin White. Many of the songs in this collection can be traced to earlier Ballads, Jigs, Marches, and love songs with Celtic origins.
11. The Cuckoo (Trad. Arr. - Al Petteway & Amy White)
The Cuckoo has its roots in early Scotland. As with most of these tunes, a number of variations of the melody and lyrics have appeared throughout history. This version was inspired by the banjo playing of Appalachian native Hobart Smith on a 1942 field recording made by Alan Lomax on behalf of the Library of Congress.
12. Swannanoa (Al Petteway)
A popular interpretation of the name, "Swannanoa" is "beautiful." We live in the Swannanoa Mountain range which overlooks the Swannanoa Valley where our favorite folk music camp takes place every summer. This camp, "The Swannanoa Gathering," is what first brought us to Western North Carolina. The setting of the Gathering is so beautiful. We cherish the music and the friendships it has inspired.
13. Ryan's Rambles (Amy White)
In honor of many things - especially our fine guitars and our fine luthier friends, for which many of our cats are named. One of our cats is named Ryan and she is quite the character. We like to imagine what one of her adventures would sound like. Perhaps a bit like this.
14. Trillium Waltz (Amy White)
A gentle melody inspired by the guitarist Andrew York and the wealth of spring wildflowers that bloom on our mountain. The Trillium is three-petaled wildflower native to our region. Bold yet delicate and fitting for a waltz.
All compositions and arrangements by Al Petteway and/or Amy White (BMI). Recorded and mixed by Al Petteway at Fairewood Studios, Fairview, NC. Mastered by William Wolf, Wolf Productions, Inc., Falls Church, VA. Graphic design by Amy White, Fairewood Studios, Fairview, NC. Cover photograph by Al Petteway & Amy White. Interior photographs by Amy White, artist photograph by Al Petteway. Vintage postcards from Al & Amy's collection of very fun stuff.
Instrumentation
Al: acoustic guitar, banjo, Irish bouzouki, fretless bass, vocals and percussion.Amy: acoustic guitar, Celtic Harp, mandolin, vocals and percussion. Joe Ebel: Violin.
Al & Amy play guitars by Kevin Ryan, RainSong and Larry Sifel. Amy's mandolin is by Weber, her Ashiko drum is by Dale and John Gardner. Al's bouzouki is by Stefan Sobel, stringed instruments are strung with Dean Markley and D'Addario Strings and are outfitted with McIntyre Pick-ups for live performance. Capos were provided by G7. Big bear-hug thanks to our very fine family, friends and fans, the folks at Maggie's Music, Doug and Darcy Orr, Peter and Susanne Collins and the Susanne Marcus Collins Foundation. Booking info: www.classactsontour.com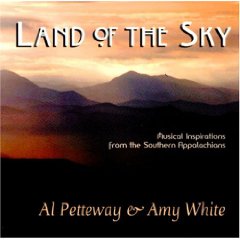 Land of the Sky

Al Petteway & Amy White

0:53

Black Bear's Picnic

Al Petteway & Amy White

1:11

Across the Blue Mountains

Al Petteway & Amy White

1:33

Bobcat in the Brambles

Al Petteway & Amy White

1:02

Pretty Polly

Al Petteway & Amy White

1:39

Wayfaring Stranger

Al Petteway & Amy White

1:39

The Cuckoo

Al Petteway & Amy White

1:39