Solo Acoustic Fingerstyle guitar tunes played on Fine Handcrafted Guitars from the Collections of Tony Russo and Al Petteway. This is a kind of greatest hits album featuring many newly recorded favorites along with some brand new tunes.
How to order
Tune List
Crossing Back (The Return)
Critter Caper
Rebecca's Waltz
Finding My Way in the Dark
Thumbin' It
Midsummer Moon
Chesapeake
Mama Bear Rag
Final Passage
Lakeside Waltz
Scarborough Faire
Magick
Tony's Rag
Shadows On The Marsh/Wetland Spring
Smoky Mt. Morning
Seven Swans
The South Wind
North Country Moor
River
Sligo Creek
Whispering Stones
Spindrift
Total Time: 1 Hour, 11 Minutes
Liner Notes
The Collector's Passion
Fine Handcrafted Guitars
From the Russo and Petteway Collections
Al Petteway - Solo Acoustic Guitar
When Tony Russo asked me to come to his home and record his favorite Al Petteway tunes on his favorite guitars, I immediately accepted. I've known Tony since I lived in the Washington, DC area and I also know that he has an incredible ear and only owns and plays the finest handcrafted acoustic guitars. Over the years, I've played every guitar in his constantly evolving collection, many of which I once owned myself, so I knew these would be extra special if he was asking me to do this project. I also really enjoyed the prospect of revisiting the tunes from my earlier days of composing for fingerstyle guitar and writing some new ones to spice up the mix.
What I wasn't prepared for was the incredible quality of sound we achieved by simply placing two high quality microphones in front of the guitars and recording them into my iPad Pro while sitting in his closed-in back porch. With Tony sitting and watching while I played, I felt as if I was performing a private concert just for him which made me play better and more musically than I might have at home.
Our time was limited since Tony lives in a suburban neighborhood where there is always yard work, traffic, dogs barking and airplanes to contend with. We had one incredibly quiet day and almost everything on this album was recorded on that day. What started out as a special favor for a dear friend quickly became my next official album release. I played a few of these tunes on my own one-of-a kind custom made guitars to round out the project. What we ended up with is an honest, almost live, performance of some of our favorite tunes played on a collection of the finest guitars of a generation. I still can't stop listening over and over to the nuances of tone and texture we were able to capture from each of them. Even with the "warts and all" approach we decided to take with the recording and editing, or maybe because of it, it's a real joy to listen to. Thanks to Amy for her unending love and support and an extra big thank you to my audio guru and friend of nearly fifty years, Greg Lukens, who offered to master this project. I'm honored.
Al Petteway
—————————
First I would like to thank my good friend Al Petteway. Undoubtedly one of the best fingerstyle guitar players in the world. Since the first time I sat down with Al over a decade ago in Takoma Park, MD I was inspired. Every lesson I improved personally and grew more appreciative of the Luthiers' innovative designs. Over the last 15 years it has been a privilege to get to know Jeff Traugott, Ervin Somogyi, Michael Greenfield, Kevin Ryan, Jim Olson, Bill Tippin and Kim Walker. They all share such a passion for their craft and really have created this Golden-age of luthiery. I would also like to thank Paul Heumiller at Dream Guitars and Mike Joyce at the Luthier's Collection. Their insights and amazing collections of guitars have really helped me find the best guitars in the world for my tastes. I'd like to thank my wife Kim along with my daughter Gabrielle and son Marty for their patience and understanding of my guitar obsession. Love you all!
Lastly, I have to thank my partner in crime Bob Hardy from SC who shares my passion for these guitars, and came up with the original idea of for this amazing album!
For a guitar player to have a master player in your home creating amazing music with the best guitars every made is truly a dream come true. Spending those three days with Al was really a treat. I hope you enjoy the music as much as we enjoyed this process!
Tony Russo
TRACK LISTING:
1 - Crossing Back (The Return) - 3:32
Traugott BK Fan Fret - German Spruce/ Brazilian Rosewood
2 - Critter Caper - 2:35
Martin Custom 00-42 High Altitude Swiss Spruce/Guatemalan Rosewood
3 - Rebecca's Waltz - 3:34
Greenfield G 1.2 -Moon Spruce/ Malaysian Blackwood
4 - Feeling My Way In the Dark - 3:50
Tippin Crescendo "Al Petteway Signature" model -Moon Spruce/Brazilian Rosewood
5 - Thumbing It - 3:24
Walker OM -Adirondack Spruce/ Mahogany
6 - Midsummer Moon -3:46
Sifel "Dryad" Dreadnought - Spruce/Brazilian Rosewood
7 - Chesapeake - 3:12
Lowden O 35 (40th ann.)– Redwood/ Brazilian Rosewood
8 - Mama Bear Rag -2:34
Traugott R – German Spruce/ Brazilian Rosewood
9 - Final Passage - 3:29
Olson SJ -Red Cedar/ Brazilian Rosewood
10 - Lakeside Waltz - 1:56
Circa OM-28 - Adirondack Red Spruce/Madagascar Rosewood
11 - Scarborough Faire -3:38
Smallman Classical - Red Cedar/ South American Rosewood
12 - Magick - 3:22
Knaggs "Sifel Night Sky" - Adirondack Red Spruce/Brazilian Rosewood
13 - Tony's Rag - 2:11
Martin OM-45 GE - Adirondack Red Spruce/ Brazilian Rosewood
14 - Shadows On the Marsh/Wetland Spring - 3:29
Thompson 000-12 BA
15 - Smoky Mt. Morning -4:56
Ryan MGC - Red Cedar/ Indian Rosewood
16 - Seven Swans - 2:43
Somogyi OM -European Spruce/ Brazilian Rosewood
17 - The South Wind - 3:27
Olson SJ -Red Cedar/ Brazilian Rosewood
18 - North Country Moor -2:23
Lowden O 35 (40th ann.)– Redwood/ Brazilian Rosewood
19 - River - 2:43
Somogyi OM - European Spruce/ Brazilian Rosewood
20 - Sligo Creek - 3:46
Lowden O 35 (40th ann.)– Redwood/ Brazilian Rosewood
21 -Whispering Stones - 2:52
Traugott Fan Fret - German Spruce/ Brazilian Rosewood
22 -Spindrift - 3:30
Greenfield G 1.2 - Moon Spruce/ Malaysian Blackwood
Total Time: I Hour, 11 Minutes
All Tracks c. Al Petteway (BMI) except 11 and 17 (Trad arr. by Al Petteway)
Recorded On Location In McLean, VA and Asheville, NC by Al Petteway
Produced by Al Petteway and Tony Russo
Executive Producer - Tony Russo
Mastered by Greg Lukens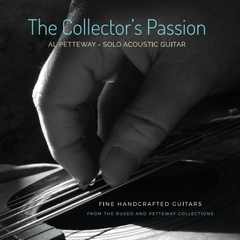 Crossing Back

Al Petteway

3:30

Critter Caper

Al Petteway

2:34

Rebecca's Waltz

Al Petteway

3:32

Feeling My Way In the Dark

Al Petteway

3:46

Thumbing It

Al Petteway

3:22

Midsummer Moon

Al Petteway

3:43

Chesapeake

Al Petteway

3:13

Mama Bear Rag

Al Petteway

2:36

Final Passage

Al Petteway

3:26

Lakeside Waltz

Al Petteway

1:57

Scarborough Faire

Al Petteway

3:34

Magick

Al Petteway

3:19

Tony's Rag

Al Petteway

2:14

Shadows On the Marsh-Wetland Spring

Al Petteway

3:26

Smoky Mt. Morning

Al Petteway

4:52

Seven Swans

Al Petteway

2:43

The South Wind

Al Petteway

3:27

North Country Moor

Al Petteway

2:21

River

Al Petteway

2:41

Sligo Creek

Al Petteway

3:40

Whispering Stones

Al Petteway

2:48

Spindrift

Al Petteway

3:28