Tina Chancey's 3rd CD celebrating the Versatile Viol; swing, blues, Old Time, renaissance, Provençal, and Irish music with HESPERUS members Molly Andrews, Bruce Hutton and Zan McLeod, plus Marcy Marxer, Nick Blanton and Paul Oorts.
How to order
Tune List
I'm an Old Cowhand / Johnny Mercer / 3.24
Soldier's Joy/ 3.00
Princess Papuli / Harry Owens / 2.34
Muddy Water / Peter DeRose/Harry Richman/Jo Trent / 4.18
Coleman's March / Irish traditional / 4.23
Hangman's Reel / 4.19
Three Ravens / Thomas Ravenscroft (1611) / 5.52
Say Old Man, Can You Play the Fiddle? / 2.52
Boogie Woogie Santa Claus / Leon René / 2.25
Salty Dog / 3.25
My Name is Death / The Incredible String Band / 3.25
Lou Courdeu/ French traditional / 5.47
Purple Picket Rag / Chris Romaine / 3.21
Wintergrace / Jean Ritchie / 3.44
Been on the Job Too Long / 4.06
It was Silent so I gave it Away / Chris Romaine / 4.19
The Lark in the Morning / Mary Hamilton / 3.00
Musicians
Tina Chancey ~ viola da gamba, rebec, kamenj with HESPERUS members
Molly Andrews ~ vocals
Bruce Hutton ~ vocals, guitar, banjo, mandolin, ukulele, lap dulcimer
Zan McLeod ~ guitar
and guests—
Nick Blanton ~ hammered dulcimer (track 12)
Marcy Marxer ~ cello banjo (tracks 6, 8), dumbek & bells (track 14)
Paul Oorts ~ cittern  (track 12)
Chris Romaine ~ fiddle (tracks 2, 6, 10, 13, 15, 16) and banjo, (track 8) Chris wrote tracks 13 and 16.
Liner Notes
I was born in 1949, four years after the War ended, went to college in the 60s, and heard a lot of this music as I grew up, though I didn't know then how much nostalgia I'd have for it now. There are some surprising connections between the tunes—for example, the traditional music climate of the 50s and 60s in New York that spawned Bob Dylan among others, was a much stronger generative force than I imagined, linking Jean Ritchie, the Clancy Brothers and others. The universality of Tin Pan Alley music, ubiquity of Hollywood musicals, international flavor of pop song, influence of Black blues, are all integrated in this recording.  Tina Chancey
I'm an Old Cowhand (Johnny Mercer)
This song is a longtime favorite of mine, written by the man who also gave us the lyrics to Moon River. His delicious sense of irony reminds me of the energetic artificiality of 1930s Hollywood, a reflection of those enterprising, pioneering spirits that filmed everything from Medieval Crusade epics, Eskimo blizzards and Middle Eastern desert battles on desolate, cactus-filled back-lots behind Santa Monica Boulevard. Our version is a conflation of Mercer's original verses with some fiddle licks and vocal stylings from Roy Rogers and the Sons of the Pioneers, tweaked for viol.
Soldier's Joy
I was particularly happy to celebrate the perennial appeal of 'Soldier's Joy' by recording Chris's fiddle version. I originally came across the tune when researching Colonial American repertoire in the 1980s; finding out that versions of it have been found in Scandinavia and France, and it's been known as "King's Head," "King's Hornpipe," "I Love Somebody" and "Payday In The Army." Considering the variety of joys described in the different texts, from Jean Ritchie's 'Love somebody, yes I do,' to the Skillet Lickers' "Twenty-five cents for the morphine, and fifteen cents for the beer, twenty-five cents for the morphine, now carry me away from here," you can understand how the tune got its longevity.
Princess Papuli
Seemingly one of those embarrassing references of colonialism, both sexist and racist, (a genre that Bruce says is 'best left unsung,') Princess Papuli may have been intended as a sincere tribute to the authentic music of Hawaii. It was composed in the late 1930s by Nebraskan Harry Owens, then the newly hired as bandleader of the Royal Hawaiians Orchestra (featuring Hilo Hattie) performing at the eponymous hotel on Waikiki Beach. Smitten by his new home, Owens began to visit local musicians, collecting traditional old Hawaiian songs and arranging them for his band, featuring the sweet sounds of the steel guitar. Owens also composed more than 300 Hawaiian-style songs; the tune he wrote for the birth of his first child in 1934, 'Sweet Leilani,' captured the heart of the visiting Bing Crosby who featured the tune in his next film, leading to the tune's Oscar win in 1937. Returning to the mainland after Pearl Harbor, Owens and his band appeared regularly on television after 1949, promoting the hapa haole style of Hawaii music (native music as interpreted by foreigners) further developed by Sonny Cunha and Johnny Noble.
Muddy Water
Also known as a 'Mississippi Moan,' 'Muddy Water' became a signature tune of Bessie Smith, recorded by her in 1927. Its composer, Pete DeRose was a versatile and prolific tunesmith whose works were popular with such diverse musicians as John Coltrane, Paul Robeson, Bing Crosby, Louis Prima, Johnny Mathis, and Donnie and Marie Osmond. One of his hits, the 1933 instrumental 'Deep Purple,' was the source from which the rock band took its name. Molly fell in love with the song in her early 20s.
Coleman's March
Although most sources list this tune as Irish, D. K. Wilgus tells another story: Joe Coleman, a shoemaker, was accused of stabbing his wife to death near the town of Slate Fork, Adair County, Kentucky, as recorded in the Burkesville Herald Almanac for 1899. Convicted on circumstantial evidence and the testimony of his sister-in-law who was living with them at the time, Coleman was tried in nearby Cumberland County and sentenced to death. While being driven to the place of execution in a two-wheeled ox cart, Coleman sat on his coffin and played a tune that has come down as 'Coleman's March.' Coleman protested his innocence to the last, and there several stories exist of a man confessing, or of "an old lady confessing on her death-bed she had killed Coleman's wife." I learned it from the cross-tuned version of Pete Sutherland, at the Augusta Heritage Festival in 1984.
Hangman's Reel
Here's another Old Time reel, chosen for its good-natured exuberance.
Three Ravens
This renaissance ballad, collected (written, perhaps?) by Thomas Ravenscroft in 1611, is sung in Appalachian ballad-fashion by Molly and accompanied in lyra viol-fashion (chords) by Tina, a true crossover.
Say Old Man, Can You Play the Fiddle?
Well, the viol is a big fiddle, isn't it? Got this version from Bruce Molsky, who played it with Hesperus on our Unicorn recording in the 1990s. This arrangement goes tribal with low and high (overdubbed) viols, modal-tuned banjo, minor-tuned banjo and cello banjo.
Boogie Woogie Santa Claus
Louisiana songwriter Leon René's 1948 R&B hit for Mabel Scott was later recorded by Patti Page and many others. (René is perhaps best known for his 1940 award-winning tune, 'When the Swallows come back to Capistrano.') This arrangement is taken from the Mabel Scott version, substituting rebec and viol for the horn section, and adding a slide turn by Zan.
Salty Dog
Bruce learned this from the playing and singing of the McGee Brothers, Sam and Kirk. The McGee Brothers were one of the most enduring acts on the Grand Old Opry during the show's first fifty years, from 1926 to 1974. They also toured with Uncle Dave Macon's band the Fruit Jar Drinkers, the Dixieliners, and Bill Monroe and his Bluegrass Boys. The McGee Brothers saw a brief resurgence during the folk revival of the 1950s and 1960s, championed by Mike Seeger. I knew the tune in jug band form from my wild and crazy days in Pyle Inn Coop at Oberlin College in the 60's.
My Name is Death
Another group I liked at college was The Incredible String Band, a Scottish acoustic band formed by Robin Williamson, Mike Heron and Clive Palmer that specialized in quirky lyrics accompanied by improvising, badly-tuned folk flutes and tiny, scratchy bowed string instruments—obviously the template I took for my future career. The song itself, though officially written by Williamson, belongs to an older collection of ballads loosely called 'Conversations with Death' or 'Death and the Lady.' We start this track with a reference to Dock Boggs'  'Oh Death,' an Appalachian member of this song family. The evocative solo instrument that follows is the Turkish kamenj.
Lou Courdeu
Nick says, "The town of Tarascon was liberated, it was said, from the monster Tarasque by Saint Marthe.  From medieval times there was a celebration of the event, with a parade of a wheeled version of the spiked monster through the town, and men with ropes would try to trip people up so they would stumble into the monster, perhaps even be injured.  Lou Cordeu would be played during this bloody/jolly little procession, and this version comes from the wonderful playing of tambourinaire Patrice Conte."
Purple Picket Rag
Chris says, "My friend Su Peck's house and property are surrounded by a picket fence that she built herself. The neighbors were quite impressed with the fence until she painted it purple. She lost some friends in her neighborhood, but gained a tune."
Wintergrace
HESPERUS was honored to do some performing and recording with Jean Ritchie in the 1980s, and she taught us this tune and the following instrumental. Here, Marcy Marxer plays drum and shakes bells to give it something of an Eastern flavor.
Been on the Job Too Long 
The ballad was written about a real event: on October 6, 1880, Patrolman James Brady was shot and killed at the Charles Starkes Saloon in downtown Saint Louis, Missouri. A man by the name of Harry Duncan was arrested, convicted and executed for the crime, despite his pleas of innocence. According to Duncan, the crime had actually been committed by bar owner Charles Starkes, who denied it at the time. Duncan was convicted and sentenced to hang for the crime, but fought the decision with a series of appeals that took the case all the way to the United States Supreme Court. Lawyer Walter Moran Farmer presented his case and holds the distinction of being the first African-American attorney to argue a case before the Court. The appeal was denied and Duncan was executed by hanging on July 27, 1894. According to some, Charles Starkes would later confess to the murder on his deathbed.
Wilmer Watts and the Lonely Eagles (named after the aviator Charles Lindbergh who flew his historic flight in 1927) recorded this traditional tune in their 1929 Paramount sessions. They called it 'Been on the Job too Long,' but it's also known as 'Duncan and Brady.' Bruce's version is a composite of Watts' and Spider John Koerner's verions.
It was Silent so I gave it Away
Chris says: "Noticing the odd spelling of my friend Su Peck's first name, I once asked her, 'What happened to the E?' She replied, 'It was silent, so I gave it away.' Hence the name of her waltz."
The Lark in the Morning 
There are a number of tunes with this title: ours refers to the Paddy Tunney song, not the instrumental. Tunney sang this song on the first album-length recording of Irish music (of the same name) to be recorded in Ireland. In 1955, Diane Hamilton (née Guggenheim) travelled to Ireland to make field recordings of Irish folk singers. According to Liam Clancy, she had become acquainted with Tom and Paddy Clancy in New York, and while in Ireland made the Clancy household one of the stops on her collecting trip. Young Liam, still living at home, was invited to continue on the trip with her, and one of the next stops was the home of Sarah Makemwho had previously been recorded by Jean Ritchie on her album "Field Trip" (1954). This fateful meeting brought together Liam and Sarah's younger son, Tommy Makem, who was also recorded. These two, along with Liam's older brothers Paddy and Tom Clancy, would eventually form "The Clancy Brothers and Tommy Makem," one of the most successful groups in Irish music history. This recording was the result of Diane's trip.
Tunes without attributions are American traditional tunes. All arrangements © and (p) Tina Chancey 2010.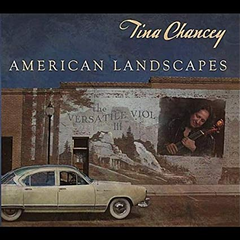 Princess Papuli

Tina Chancey with Hesperus and guests

2:35

Coleman's March

Tina Chancey with Hesperus and guests

4:23

Three Ravens

Tina Chancey with Hesperus and guests

5:53

Say Old Man Can You Play the Fiddle?

Tina Chancey with Hesperus and guests

2:52

Lark in the Morning

Tina Chancey with Hesperus and guests

3:01