Celtic, early music and multi-cultural improvisations that takes the hammered dulcimer to a new level with Sansone's trademark energy and groove based compositions.
This anthology features one of America's finest hammered dulcimer recording artists and highlights over twenty years of performances from nine recordings. Maggie says, "Along my musical journey, I discovered how diverse cultures separated by geography are linked by music's universal language, a thread from ancient to modern times- across centuries and boundaries." She features tracks that include Al Petteway on guitar, Sue Richards on Celtic harp, Bonnie Rideout on fiddle, Karen Ashbrook on pennywhistle, Robin Bullock on cittern, mandolin, guitar , Matthew Bell on bodhran and Bobby Read on woodwinds and saxophone. Sansone has been featured on CBS-TV Sunday Morning, NPR's All Things Considered,The Thistle and Shamrock and Sirius/XM radio. A perfect companion CD to Celtic Meditations (Sansone's anthology that features the contemplative side of Celtic) Total Time: 66 minutes
Rambles Review! (full review in PDF)
Maggie's music (as distinguished from her label!) is playful, inventive, sometimes tinged with melancholy, and increasingly informed by interests in other world cultures.
~ Robert Aubry Davis
A Hammered Dulcimer Collection- 1 sheet flyer
A Hammered Dulcimer Collection- The Press Release!
Tune List: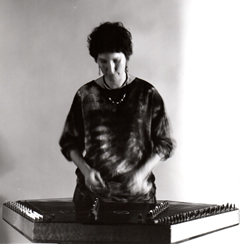 Celtic Jig Set: Bridal Jig/Random Notes 3:24
Willie's Old Trousers & The Tartan 4:09
Drummond Castle 2:50
Evening Chai 3:12
Variations on Pretty Girl Milking a Cow 3:26
Cantiga de Santa Maria, No. 4 (A Madre Do Que Livrou)/ Cantiga de Santa Maria, No.166 (Como Poden) 2:45
Miss Patterson/Johnny's Gone To France 3:28
Mystic Dance 2:57
Shule Aroon 2:24
Scottish Reel Set: Jenny Nettles/St. Kilda Reel 2:42
Douce Dame Jolie 2:28
Go To Berwick Johnny 3:59
Ductia (Medieval Dance) 3:14
Harvest Home 1:58
Scottish Lullaby Set: Rock Thee O'Child/Christ Child's Lullaby 3:51
Improvisation in 3 Parts 4:59
Irish Reels: Tyrone March/Cooley's Reel 5:33
Drunk at Night, Dry in the Morning 2:27
Breton Dance Set: Gavotte/Bouree d'Aurore Sand/French Musette 6:14
Total Time: 66 minutes
Liner Notes