Hazel Grove
Sue Richards ~ Celtic Harp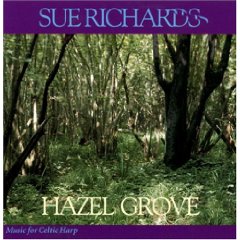 Celtic harp is the national emblem and musical instrument of Ireland and Sue Richards, an Irish and Celtic harp champion many times, brings honor to this magnificent instrument. Her music evokes the mystery of the ancient Celts. Guests include Scottish fiddler Calum MacKinnon, All-Ireland button accordion champion Billy McComiskey, Ensemble Galilei members Carolyn Surrick on viola da gamba and Marcia Diehl on recorder, guitarist Connie McKenna, Charlie Pilzer on piano and bodhran. A stunning follow-up to Richard's award-winning Morning Aire. (55:21 minutes)
"Richards brings more than precision... her graceful touch gives an appealing buoyancy... the chamber-like intimacy and sonorities are preserved and further heighten the color, pulse and emotion of these now lively, now haunting refrains."

- The Washington Post
Tune List

Listen to samples of tracks 1, 2, 3, and 13.
O'Farrell's Welcome to Limerick (3:02)
The Musical Priest / Miss Ratray (3:29)
Miss Murphy (3:12)
Brian Boru / Halting March / The King of Laois (7:20)
Miss Abbott (3:18)
Leaving Port Askaig / Murray Shoolbraid of Saltspring / East Neuk of Fife / Torryburn Lasses (4:21)
Da Day Dawn (2:43)
The Emigrant's Farewell (4:50)
Bi Falbh o'n Uinneig (Go from the Window) (5:03)
Morfa Rhuddlan (Rhuddlan Marsh) (2:23)
Banjo Breakdown (2:26)
Tip O'Neill / Washington Hornpipe (3:59)
Miss Noble (4:35)
Lament for Coire an Easa / The Hazel Grove (4:13)
Liner Notes
Musicians
Sue Richards ~ Celtic harp
With special guests
Karen Ashbrook ~ Flute, pennywhistle, hammered dulcimer
Myron Bretholz ~ Bodhran
Marcia Diehl ~ Recorders
Calum MacKinnon ~ Fiddle
Billy McComiskey ~ Button accordion
Connie McKenna ~ Classical guitar
Charlie Pilzer ~ Piano
Jon Quigg ~ Scottish snare drum
Carolyn Surrick ~ Viola da gamba
1. O'Farrell's Welcome to Limerick
Celtic harp
An Irish 9/8 (or slip) jig, this appeared in a pocket tutor for the pipes by O'Farrell in 1800. It was also in the Stanford edition of the Petrie collection.
2. The Musical Priest/ Miss Ratray
Celtic harp, button accordion
I learned this reel at a slow tempo and found, to my surprise, that it lost its charm when pushed up to speed. I play it here as a "slow reel." I learned (or "had," as Irish musicians would say) the second tune from Baltimore piper Paul Levin, who probably had it from an old recording by piper Paddy O'Brien.
3. Miss Murphy
Celtic harp, viola da gamba
A lively piece by Turlough O'Carolan, a blind harper active in 18th century Ireland. This piece reflects the modern influences of continental European music that were sparking great changes in the Irish harp repertoire during O'Carolan's lifetime.
4. Brian Boru/ Halting March (Pikeman's March) / The King of Laois
Celtic harp, hammered dulcimer, flute, pennywhistle, bodhran
I have always loved Celtic marches for their emotional range. The first here is a popular and haunting march named for the high king of Ireland in the 11th century. The tune commemorates the Battle of Clontarf in 1014. Ireland was successfully defended from the Vikings, but Boru was killed. I play it as a lament. The second is a rousing northern Irish march used to drill the pikemen as they prepare for battle. The third tune is peaceful and dignified, and always makes me wish I'd met the good king of one of Ireland's counties.
5. Miss Abbott
Celtic harp, classical guitar
I wrote this waltz for my Scots-Irish mother, Ruth Abbott. In addition to harp lessons, she gave me her love of music, art, and sunsets. Thanks, Mom!
6. Leaving Port Askaig/ Murray Shoolbraid of Saltspring/ East Neuk of Fife/ Torryburn Lasses
Celtic harp, fiddle, piano
While it is mandatory for Scottish fiddlers to play a march/strathspey/reel set in competition, harpers rarely do. This is my argument that we should. The first tune is a 6/8 march by the prolific composer and pipe major, Willie Ross. Fans may recognize him as the man who wrote "Leaving St. Kilda" on my first album. Murray Shoolbraid is a musician and Scottish historian living in the Vancouver, B.C. area of Canada. He has supplied much valuable information for my past two albums. This tune was composed as a tribute to him from his band mate, Keith Malcolm of the Barley Bree Country Dance Band."East Neuk of Fife" and "Torryburn Lasses" are Scottish reels.
7. Da Day Dawn
Celtic harp
This aire is from the Shetland Islands and describes the exquisite beginning of daylight as seen by the fishermen.
8. The Emigrant's Farewell
Celtic harp, button accordion, recorder
Traditional Scottish air heard first from hearing the lovely singing of Eithne Ni Uillachain of the Irish group, La Lugh. The words to this haunting air speak of the sorrow of parting as one leaves for the New World.
9. Bi Falbh o'n Uinneig (Go From the Window)
Celtic harp, viola da gamba, fiddle
This is an old Scottish song in which a young woman warns her lover to flee, perhaps from the "press gangs" who abducted young men for the army. The basic string arrangement is by I.T. MacDhonnchaidh.
10. Morfa Rhuddlan (Rhuddlan Marsh)
Celtic harp, flute, piano
I couldn't release an album without a Welsh set. Here are three versions of a lovely Welsh waltz. The first two, from different areas of Wales, are taken from the "Pocket Tune-Book" collections by Welsh harpist Robin Huw Bowen. Never happy to leave well enough alone, I combined the two in a third version, thus confusing myself and anyone else who wants to perform it in the future!
11. Banjo Breakdown
Celtic harp, Scottish snare drum
This popular jig is from the highland pipe repertoire of Scotland. I learned it during my many summer stints as harp teacher at pipe and drum schools around the U.S. I like to give the harp an unusual snappy sound when I play pipe tunes, and the Scottish snare drum makes it a unique duet.
12. Tip O'Neill / Washington Hornpipe
Celtic harp, button accordion, bodhran
On Friday afternoons in Washington, D.C., I used to play for bashes on Capitol Hill sponsored by the "Irish Culture and Carousing Society." Congressmen, government workers of Irish descent, and even Speaker of the House, Tip O'Neill, would occasionally show up and read their poetry. I wrote this tune for Tip, a man I greatly admired.The second tune, an appropriate partner to the first, is a traditional Irish hornpipe.
13. Elizabeth McDermott Rowe/ Miss Noble
Celtic harp, viola da gamba
No one knows for sure whether Turlough O'Carolan used chordal accompaniment when he played, since the melodies alone were preserved. I've given the first of these O'Carolan tunes a stark and dignified arrangement which is reminiscent of the older harp music of Ireland. My setting for the second tune is unique and modern, as the melody begs for an unusual chord progression. The tunes memorialize two of the composer's patrons. The McDermott Rowe clan employed the O'Carolan family, and saw that young Turlough was taught the harp when he was blinded from smallpox at age 18. Elizabeth is most likely a member of that family. Miss Noble is probably from the Noble family of County Tyrone or Fermanagh.
14. Lament for Coire an Easa /The Hazel Grove
Celtic harp
The first notes of this set suggest the sound of hazel nuts dropping into a magic pool. Enchantment ensues, as described in R.S. Gary's poem (read ahead!). This poem inspired me to compose the second tune of the set.