Mountain Guitar

Al Petteway
Grammy-Winning Guitarist creates contemporary Celtic- & Appalachian-Influenced music both originals and traditional music.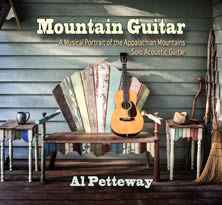 A musical tribute to the Appalachian Mountains of Western North Carolina, performed on solo acoustic solo guitar.
TO ORDER:
Sligo Creek (3:26)
Dogue Creek (2:35)
Spindrift (3:15)
Red Haired Boy/Cold Frosty Morn (5:21)
Broken Mist (4:13)
Lonesome Road Blues/John Henry/Sittin' On Top of the World (2:52)
The Parting Glass (2:20)
Liner Notes
I truly love the mountains of Western North Carolina where my wife Amy and I make our home and it's hard to be separated from them for too long without going through a kind of withdrawal. There is a unique beauty here that exists nowhere else in the world. For me, the music is hard to separate from the natural setting of mountains, valleys, waterfalls, rivers and creeks. This region's instrumental music evolved from many influences. There were the Scottish and Irish immigrants whose fiddle music mixed with the banjo music of African Americans and led to Old-time and Bluegrass.
There are ballads and shaped-note hymns based on traditional melodies some of which are hundreds of years old. And then there is the music brought through by traveling dance band musicians who followed the mining camps along the spine of the Blue Ridge, that had an influence on much of the fingerstyle Blues guitar playing from the region. North Carolina musicians Doc Watson and Etta Baker, carried on the tradtion and have been an inspiration to almost all of the guitarists of my generation.
My Dad was a North Carolina boy who also happened to love the guitar, so I grew up listening to a variety of "Country" fingerstyle guitar records. I didn't really know at the time that many of the melodies I heard in those popular songs from the region had their roots in traditional tunes that predated even the earliest recordings from the 1920's. Artists would often "borrow" melodies and change or add words to make the song their own. For example, when asked about his most famous song, "I Am A Pilgrim", Merle Travis said: "I first heard a version of this song from Lyman Rager, who learned it while he was in the Elkton, Kentucky jail. I rewrote it, rearranged it, and added to it."
Of course Mister Rager probably didn't know where his jail mate learned it before he himself changed it and added to it. Some of the most prominent names in the world of Country and Folk music, like The Carter Family and Woody Guthrie, borrowed liberally from traditional sources for their iconic melodies. And then there are tunes like Shady Grove with versions that have the same name, but different melodies and words.
The music is constantly evolving. In this collection I've featured some of my favorite old tunes remembered from childhood that, in the spirit of the tradition, I've changed and adapted a bit to make them my own. I've also dusted off some old favorite originals, and I threw in a few brand new ones. I sin- cerely hope you enjoy listening to this album as much as I did recording it in our home studio overlooking the Blue Ridge Mountains of North Carolina and The Great Smoky Mountains of Tennessee during three beautiful spring evenings in May 2014. I tried to capture a little bit of the spirit of the mountains, so kick back and enjoy. - Al Petteway