Dream Guitars Vol. 2 'hand picked' by
Al Petteway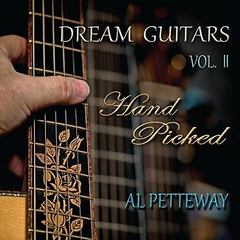 Grammy winner, Al Petteway, was voted #27 in a list of the top 50 acoustic guitarists of all time by readers of Acoustic Guitar Magazine. His original compositions have been featured on National Geographic Television and Ken Burn's Mark Twain and National Parks films. He plays solo and with some of the biggest names in the music industry today which have won him international acclaim.
This new recording on the Dream Guitars label features custom made acoustic guitars hand picked for Al Petteway's performances. The CD was recorded with minimal processing and gives the listener a real feel for the sound of these amazing instruments and Al's genius guitar playing.
"An innovative guitarist with a rich dulcet sound that features a fusion of new and old."- Boston Globe
Tune List
I Don't Want to Be Sad No More (2:51) – 1933 Martin 00-40H

Blue Ridge Brambles (2:13) – Henderson D-28 Deluxe

Breakin' the Blues (3:32) – Greenfield G1

When We Were Young (3:35) – Stotzel Guitars Zoe Small Jumbo

Downhill Ride (2:14) – Blanchard Sugar Pine

Saturday Night Strut (3:39) – Mountain Song Guitars (Ken Jones) Baritone Fan Fret

Breton Dance (2:06) – Veillette Terz

Late At Night (3:59) – Sobell New World

Just One More Time (3:18) – 1928 National Reso-Phonic Style 1 Tri-Cone

One Yellow Rose (2:20) – Petros Yellow Rose FS Cutaway

My Solitude (4:40) – Buscarino Cabaret

Raven's Flight (3:26) – Tippin Crescendo Al Petteway Signature Series

River (3:31) – Matsuda M1

The Cuckoo / Reuben's Train (3:33) – Circa 000

Swannanoa (3:23) – McConnell OM

The South Wind (3:23) – Tippin Custom Crescendo Fan Fret

All Songs are original compositions by Al Petteway
The Story:
"Dream Guitars Volume Two: Hand Picked" is the sequel to "Dream Guitars Volume One: The Golden Age of Lutherie" by Al Petteway. The inaugural CD was a compilation of original music recorded by Al on a limited edition of guitars, named the 'Dream Series', designed and crafted by eleven of our favorite luthiers solely for Dream Guitars. Great guitars are part of the reason for the second CD, the other major part is Grammy Award winner, Al Petteway. Those of you who are familiar with Dream Guitars (www.dreamguitars.com), know Al as the guy who plays everything from sweet acoustic fingerstyle guitar to down home banjo & mandolin to electric lead with attitude. He's also a wonderful composer who wrote all the '56 second wonders' on our site. Those sound clips that everyone wants TAB for.
"Dream Guitars Volume Two: Hand Picked" features additionally amazing original compositions by Al Petteway played on some of the most incredible instruments on the planet. The instruments were 'Hand Picked' off the wall at Dream Guitars by shop owner Paul Heumiller and Al Petteway. A book of sheet music and tablature is also available making it a wonderful learning tool for Fingerstyle guitar players.
"It's a joy to be able to play all of the wonderful guitars at Dream Guitars while doing their video demos. This second CD in the series features some of our "hand-picked" favorites, recorded with the same bare bones philosophy as Vol. I, relatively raw and with only a bit of reverb added here and there. All of the tracks were recorded in stereo using high-end microphones and preamps. I've come to really like this "naked" way of recording and listening to high-end guitars. It makes it much easier to experience the truly individual voices that these instruments have. I hope you enjoy listening to this CD as much as I enjoyed making it." – Al Petteway
Liner Notes
I feel privileged to have had the opportunity to record eleven of the most amazing acoustic steel-string guitars ever made. It took some time since I had to wait for each "Dream Series" guitar to be completed and then record it quickly before it was sold. These guitars are sometimes only in the shop for a day or two, so I had to work fast and then wait for the next one to arrive.
The idea was to record longer versions of the little 55-second tunes I use to demo the guitars on the Dream Guitars web site. There has been much interest in these pieces and I was more than happy to expand them into completed tunes. I also wrote some new pieces, just for the CD.
I recorded these wonderful guitars with as little processing as possible so that the listener could really hear them. I also went for the "organic" approach, leaving in all of the noises, buzzes and squeaks that usually get edited out of solo guitar recordings. The result is a recording that reproduces exactly what you would hear if you were to place your head in front of the guitar while I play. All of the guitars were recorded using a matched pair of Sennheiser MKH-40 condenser microphones running through an API 3124+ preamp with no EQ or compression.
After listening to this CD, I think you'll agree that we are indeed in the "Golden Age of Lutherie."
- Al Petteway