Bittersweet: An American Romance

Amy White ~ Piano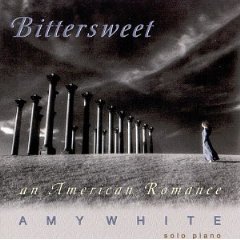 "[Amy White]...music of transporting power and beauty, shaped not only by a keen sense of lyricism and dynamics, but also a quiet soulfulness that continually draws in the listener."
- The Washington Post
Tune List

Listen to audio samples of tracks
Amy White ~ Piano
Al Petteway ~ Guitar (2 & 7)
Richard White ~ Oboe (4 & 9)
Many of the compositions on my previous piano CD, Piano Diaries, were more brief illustrations and essays on emotion. On Bittersweet I dive deeper and dwell a little longer. There are sister tunes here and common themes woven throughout: falling tears, chiming clocks, changing skies, childhood songs, galloping hooves and beating hearts. I hope that the listener will discover a kinship with the melodies and themes in this recording. Thank you for listening…
1. American Romance 6:23
That first spark of a longtime passion, blossoming, then growing deep, learning to give and weather the changes. And there are moments of exhilaration, galloping across the plain and that weightlessness in surrendering to the wind and the current and to another…only to settle gently in an embrace and, once more, safely in this cradle of earth.
2. Loss 6:17
Grief can come in waves and stages. Sometimes it is a journey beyond one's self, to escape the pain. Sometimes it is a descent inward to explore the vast and often tangled network of roots, slowly decaying from the clearcutting above. A reminder of a once thriving love. It can be a surprise, how deep and pervasively these roots take hold and how a mere scent or sound in daily life can send us tumbling down below. Sometimes when we are stronger, we don't let the memories die. Instead we dig deep and find treasures, rediscover the will to live and thrive. This lament was written and first performed for the memorial service honoring three young barristas who were slain in a Washington-area Starbucks coffee shop in July 1997.
3. Skirting the Storm 6:26
In and out of the eye of the storm.
4. Bittersweet 6:51
Before Piano Diaries, my father and I never played music together because I never learned to read music. This always saddened me. Music was a great part of our family life and although I always dreamed of joining other musicians I composed alone, committing tunes to memory. Shortly after we met, my husband encouraged me to record my compositions. He transcribed the parts that I wrote for my father and made these dreams and duets possible. Bittersweet is for my father, who recently retired after nearly half a century as Oboist and Principal English Horn Soloist with the National Symphony Orchestra. He sings through his instrument (to make up for not being able to sing at all, he tells me.) Nearly every time I hear him play I am moved to tears.
5. Touching Souls 6:03
"surely you touched mine…"
6. Waiting Out the Rain, names will never hurt me 6:03
The sad-sweet, sensitive child. Forever alone in a crowd. Saved at the eleventh hour by discovering strength in differentness, and magic in a long-sought, kindred spirit.
7. Bareback 5:32
My childhood friends had horses and I'll never forget that feeling of being on horseback. That on-top-of-the-world perspective, the power and warmth between my thighs. Over the years, the stables in my neighborhood turned into condominiums and townhouses. No more apples gobbled from my hands, no more nuzzles over the fence, no more taking the long way home just to see the horses. So here, in these few minutes, I'm clearing the fields, I'm growing the trees, I'm bringing back the horses… And it is a blissful ride and playful romp for my love and me. Hold on tight!
8. Full Circle (7:37)
Memories revisited. The same river twice at a different bend.
9. Kiss Under Cover of Night 6:19
At the stroke of three, go out into the night and into the arms of your forbidden love. Elude your captors, triumph in the chase and waltz until morning, mourning the day.
10. Happy Go Lucky -vs.- the Undertow 5:29
The alternately inspiring and grueling spiral dance of the artist.
11. Forsaken 4:54
For America's forgotten people.
I am grateful for the support from the Maryland State Arts Council, the National Endowment for the Arts and the Washington Area Music Association. Thanks to the friendly folks at Maggie's Music, Oasis, the Swannanoa Gathering and the House of Musical Traditions. Also, loving thanks to every wonderperson who shared and made possible Al's and my rainbow-circle wedding, especially my wonderful, growing family, the Petteway clan, for their warm welcome; Helen and Pat, beautiful artists-gentle teachers; Tom and Midge, Al and I want to be just like you two when we grow up; Paul and Becky, for that first push and for always being there; Rob and Clair; Kathleen and Jeffrey; Michele my sweet; Bonnie and Jesus; Greg and Terry; Rich and Izolda; Larry and Jean; Sandy; Lisa; Abby; Robin, you are (truly) wonderful; Lynne and Cheryl; Ellen (my love) and Marcus; Tom and Crystal; fairies-Grace and Diana; Maria, we'll miss you; JoAnn; Lori, "for it's nice to be kneaded"; Art, for the finest sound and greatest cappuccino; Bill, for the icing on the cake; Vickie, for creating the perfect mood-images for this cover; Glynnis for the title, "Full Circle"; the audience member at the Alden Theatre who suggested "Waiting Out the Rain"; and Nance and David for giving me my first real freedom in music in the company of others, something I'm only now beginning to experience. What a great adventure. And Al, my husband, who pulls me lovingly to the surface when the undertow of doubt takes hold. You are the finest partner in music, love and life. I cherish each moment we have together, both the bitter and the sweet and everything in between…
For those of you who like bloopers or are interested in the studio experience, there is a piece for you hidden in the negative numbers before Track 1… (near -0:59), try rewinding).