Winter Tidings-An Appalchian Christmas

Al Petteway & Amy White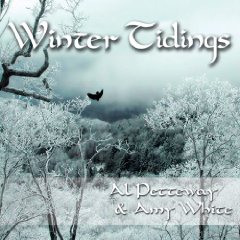 A holiday celebration of winter's majesty with holiday classics, traditional Celtic carols and mountain melodies from the southern Appalachians performed on acoustic guitars, mandolin, banjo, Celtic harp, piano, fiddle, bass and percussion.(56:45 min)
Watch Al & Amy Video Breakin' Up Christmas- AL & AMY
Al Petteway & Amy White, GRAMMY award winning artists, turn their talents to the celebration of the Holidays. Also hear: Land of the Sky- music inspired by the Appalachian Mountains, and A Scottish Christmas, ( Bonnie Rideout, Maggie Sansone & Al Petteway) featured on CBS-TV- Sunday Morning!
Purchase from PayPal:


Order MM234 CD $13.65 (PayPal prices include shipping)
"Holiday and winter solstice celebration...
...sprightly, sensuous, sunny, entrancing and wonderfully evocative." - The Washington Post

"Simply one of the finest albums of Celtic-influenced music you are likely to hear.. stunning, awesome...majestic..."- Dirty Linen Folk and World Music Magazine
Tune List

Listen to samples of all tracks.