Scottish Rant

City of Washington Pipe Band and Scottish Fiddle Champion Bonnie Rideout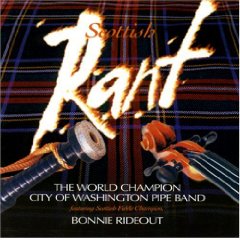 "rant (rant) n. boisterous or riotous merry-making" (The Concise Scots Dictionary). This new release lives up to the Scots dictionary's definition, featuring the energy of the Grade One City of Washington Pipe Band and the grace of Scottish fiddler, Bonnie Rideout, praised as "An extremely talented fiddler with a true empathy for the wild and gentle moods of Gaelic music." Folkroots (U.K.). Together they celebrate and perform highland bagpipe music from Scotland, Ireland, Spain, and North America in innovative new arrangements including small ensembles with solo pipes, small-pipes, drums, fiddle, viola, cittern, guitar, dombek, and bodhran.
Just how do the Scots define a "rant"? According to one dictionary, it's a form of "boisterous and riotous merry-making," and thus would seem an apt title for a new recording by the City of Washington Pipe Band and champion Scottish fiddler Bonnie Rideout. Turns out, it is--at least part of the time.

The pairing of Rideout with the CWPB--an award-winning pipe band and drum corps, 26 members strong--certainly generates plenty of spirit, especially when the troupe infuses a surprising variety of tunes with all the rhythmic drive and vitality it can muster. Whether opening ears with a set of Spanish reels and jigs or sticking closer to home with the Congressional Reel Set, the sound of Rideout and the CWPB, alone or together, often makes for inspired ranting.

Yet by the time the third track, Amazing Grace, rolls around, it's clear these musicians are capable of playing deeply soulful music as well. In fact, among the highlights here are Mist Covered Mountains, a melancholy air performed at President John F. Kennedy's funeral, and Dunblane, an elegiac ballad inspired by the 1996 massacre of 16 Scottish schoolchildren and one teacher. Moving and heart felt, these performances are among the reasons why Scottish Rant doesn't merely live up to its title, it ultimately transcends it .

- Mike Joyce for The Washington Post
Tune List

Listen to samples of tracks 1 and 3.
Asturian Reels and Jigs (3:33)
Congressional Reel Set (2:30)
Amazing Grace (2:25)
Medley (5:36)
Solo Jig and Hornpipes (3:14)
9/8 Marches (3:26)
Dunblane (4:59)
The Recruits (2:12)
Jigs (2:28)
Competition Set (5:13)
Mist Covered Mountains (1:50)
Old Reels (4:15)
Marching Reels (1:33)
Scotland the Brave (1:30)
Liner Notes
Musicians
Mike Green ~ Pipe Major
Charlie Glendinning ~ Pipe Sergeant
Jon Quigg ~ Drum Sergeant
Tim Carey, Vic Frank , Paula Glendinning , Peter Hall, Chris Hamilton , Don Kelemen , Peter Kent, Charles McKee, Ken McKeveny, Brian Meagher , Mike Rogers , Jim Ryan, John Wassman , John Whyte ~ Pipers
Matt Bell, Bill Burdette , Alex Kuldell , Gavin Lindsay, Kirk MacLean, Harry Meade , Brian Nugent , Margaret Peng , Peter VanderPoel ~ Drummers
Special Guests
Bonnie Rideout ~ violin & viola
Robin Bullock ~ cittern & guitar
Paddy League ~ bodhran & dombek
Producer: Bonnie Rideout
Executive Producer: Maggie Sansone
1. Asturian Reels and Jigs (3:33)
Marcha d'Arnau (Traditional)
Marcha de San Roque (Traditional)
Salee de Llanes (Traditional)
Villancicu Pixuatu (Traditional)
We learned this set from Llan de Cubel, a wonderful band from the Asturias region of Spain. Thanks Xel, Xuan and Marcos, for a great jam session in Richmond. Fiddle, cittern, bodhran, pipe band, solo bagpipe (Michael Green).
2. Congressional Reel Set (2:30)
The Congress Reel (Traditional)
The Swallow Tailed Coat (Traditional)
Captain Chops (Kirk MacLean)
The Phoenix (Don Bradford)
We named this set in honor of the most beloved of Washington institutions, the U.S. Congress. "The Congress Reel" and "The Swallow Tailed Coat" are really old Irish dance tunes. "Captain Chops" is a short drum break conceived by ex-USMC drum and bugle corps member, Kirk McLean, and performed on colonial rope-tension snare drums. Both Scottish and American drums get together for the last tune.
3. Amazing Grace (2:25)
Played in both traditional and gospel style. Fiddle, bagpipe (Mike Rogers, 1999 Silver Medal winner), pipe band.
4. Medley (5:36)
The Pikeman's March (Trad., arr. by Terry Tully)
Lady Madelina Sinclair (Paterson's Publications)
Loch Loskin (Roderick Campbell, Cowal Highland Gath.)
Traditional Reel (Trad. PatersonŐs Publications)
The Wishing Tree (Seamus McGuire, Green Linnet)
W.A. MacPherson of St. Thomas (Ian C. Cameron, Duncan Johnstone Collection)
BagDad (Charlie Glendinning)
BagDad 99 (Charlie Glendinning, Michael Green)
The Keflavik Jetnest (Michael Green)
"The Pikeman's March" was said to have been used to train Irish recruits to fight the English Army in the Glorious Rebellion of 1689. Alas, the English had cannons. Mike composed "The Keflavik Jetnest," while in the airport in Reykjavik, Iceland on the way home from Scotland. The Jetnest is a new age sculpture next to the airport.
5. Solo Jig and Hornpipes (3:14)
The Lark in the Morning (Trad.)
Andy Renwick's Ferret (Gordon Duncan, Vale of Atholl Music)
Banjo Breakdown (Trad., arr. M. Green)
Dombek, cittern, bagpipe (Mike Green).
6. 9/8 Marches (3:26)
The Bathgate Highland Gathering (Rob Abbott, ISA Music)
The Festival March (Ronnie Ackroyd, Pat. Pub.)
The Iceman (Michael Green)
Two great standards with harmonies by Charlie Glendinning, followed by "The Iceman," a tune composed for Chris Hamilton, whose taste in piping and rock music was frozen sometime in 1976.
7. Dunblane Charlie Glendinning (4:59)
Like an icy blast of winter when flowers begin to bud in the spring, a gunman entered a primary school in Dunblane, Scotland on March 13, 1996 and killed 16 children and their teacher. Charlie wrote this tune in the days following the shooting, in compassion for the people of the town. In Bonnie's arrangement of the tune, the fiddle, viola and pipes give voice to those who were lost, taking hope that "in love lies the power of life over death, the victory of joy through the pain." Fiddle, viola, bagpipe (Paula Glendinning).
8. The Recruits Charlie Glendinning (2:12)
This tune was composed for drummers Jon Quigg and Tim Gladden on their departure from the band to join the U.S. Army in 1982.
9. Jigs (2:28)
The Ingleneuk (W. Bryson)
Craigdarroch Arms Blind Billy (O'Neill's Music of Ireland)
The Stool of Repentance (Traditional)
Pipe band, bodhran, cittern, guitar.
10. Competition Set (5:13)
The Highland Wedding (Angus MacKay)
Bogan Lochan (Traditional)
Smith of Chilliechassie (Traditional; Drum score by Alex Duthart, arr. by City of Washington drum corps.)
This set took the band to 1st place in the 1999 Grade Two World Pipe Band Championships.
11. Mist Covered Mountatins (1:50)
The U.S. Air Force Pipe Band played this tune at President John F. Kennedy's funeral. President Kennedy loved the pipes, and this tune in particular. Bagpipe (Chris Hamilton), fiddle.
12. Old Reels (4:15)
Grant's Rant
Nighean Doon/The Brown-haired Daughter
Innes of Sandeside
Mo Chuachag Laghach/The Gentle Milkmaid (Trad.)
Stuart's Rant (Trad.)
A set of old piping reels discovered by Bonnie, featured on her Scottish Fire CD, and re-mixed and re-mastered here with a new smallpipe track. Fiddle, bodhran, guitar (Al Petteway), Shepherd "A" smallpipes (Vic Frank).
13. Marching Reels (1:33)
Farewell to Ireland (Trad. Cuillin Productions)
The Lintie (Donald MacLeod)
Murdoch MacAlister (Robert MacNeil)
Wee Alec-Fort William (John D. Burgess)
A set of Scottish reels that we use to march up to the line for competition or to open concerts. Reels aren't just for dancing anymore.
14. Scotland the Brave (1:30)
The most famous pipe band tune of them all. What can we say? The people should get what the people want.