Midsummer Moon

Al Petteway ~ Guitar
This CD is only available as a digital download from CDBaby and iTunes.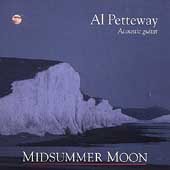 A master of many guitar styles, Al Petteway stretches into new territory with Celtic-inspired traditional and newl music. Includes: Eric Rigler - uilleann pipes; Bob Read - soprano sax; Keith Leaman - digeridoo; Amy White - mandolin, Ashiko drum; Debi Smith and Myron Bretholz - bodhran; Holden MacAleer - bassoon. (54:14 minutes)
"A beautiful, quiet yet powerful album. It's marvelous."

- Kanu Flint Hills Special

"Steeped in Celtic tradition, arranged with great subtlety and imagination, it presents the listeners with a little midsummer's night magic to go."

- The Washington Post
Tune List

Listen to samples of tracks 1 and 2.
The Red-Haired Boy 3:55 Traditional Irish
Midsummer Moon 3:12
Solitude 4:26
Songline To Skye 2:54
Wintertide 2:38
Wild Mountain Thyme 5:53 Traditional Scottish
Phooka 4:22
Chase The Moon 2:09
Little Evan 2:07
Amy's Tears 3:45
The Beauty Spot 2:38 Traditional Irish
New Moon 5:06
Fairies' Waltz 1:41 (? Time)
White Island 3:08
Evolution 4:51 Liner Notes
Musicians
Al Petteway ~ Guitar, electric bass & bodhran (7)
Amy White ~ Mandolin, guitar & Ashiko drum
Myron Bretholz ~ Bodhran (1, 7, 15)
Bob Read ~ Soprano sax & clarinet
Eric Rigler ~ Uilleann pipes
Debi Smith ~ Bodhran (5, 9)
Keith Leaman ~ Didgeridoo
Holden MacAleer ~ Bassoon
Uilleann pipes are played by pumping bellows with the arms as opposed to blowing air into a bag with the mouth. Their drone notes can be changed to accompany the "chanter" melody, unlike Highland pipes.
On this album Keith plays the Didgeridoo, a traditional Australian instrument made from eucalyptus branches that have been hollowed out by termites. He also plays Dreamtime pipes, a North American version of the didgeridoo made from the dried stalk of a cactus. The instruments are played by buzzing the lips and shaping the throat to create vocal effects and sound combinations from ear splitting shrieks to growls, murmurs and groans.
1. The Red-haired Boy (Traditional Irish, arranged by Amy White & Al Petteway) (guitar tuning DGDGBD)
Myron Bretholz-bodhran. This arrangement began as a front porch mandolin duet. When I translated my part to guitar, I placed it high up on the neck to retain that mandolin-like quality. I also worked with an open tuning so I could play the melody across the strings and let each note ring somewhat like a harp.
2. Midsummer Moon (CGCGCD)
Picture a full moon on a warm midsummer's night spent with your true love.
3. Solitude
A new arrangement of a tune I recorded for an earlier album, Dryad Dance, now out of print.
4. Songline To Skye (GGCGCC)
Creation myths of Australia's aborigines tell of beings who wandered over the continent in the "Dreamtime," singing the world into existence. The footprints they left behind are called "Dreaming Tracks" or "Songlines." During "Walkabouts," aboriginal men followed these paths using song as both a map and a direction-finder. If a man strayed from hisSongline, he could be killed for trespassing, but as long as he stuck to the track, he would find people who shared his dreaming and were his spiritual brothers.
5. Wintertide (DADGAD)
I finished this piece moments before walking onstage at the Wintertide Coffeehouse during Christine Lavin's singer/songwriter retreat on Martha's Vineyard.
6. Wild Mountain Thyme (Traditional Scottish)
I first heard this song performed by The Byrds in the late 1960's. Their version had the biggest influence on my arrangement. Eric and I played this selection "live" in the studio with no overdubs.
7. Phooka (Petteway/White)
Phooka is a type of mischievous fairy -- sometimes a horse, sometimes a cat -- that can change shapes at will. This tune is dedicated to a Phooka in cat form who shared our home for a while. We still hear his claws race across the floor from time to time.
8. Chasing The Moon (DADGAD)
This title suggests many things. I like to imagine traveling at night during a full moon.
9. Little Evan (DADGAD)
Debi Smith-bodhran. For a little boy who warmed my heart.
10. Amy's Tears (DADGAD)
11. The Beauty Spot (Traditional Irish)(DADGAD)
Although the didgeridoo and the uilleann pipes come from different parts of the world, each has a drone effect that relates them in some basic and primitive way. I wanted to put them together. First, Keith recorded an original didgeridoo composition with vocals, growls and shrieks. Then Eric added two layers of improvisation on the pipes, leading into the Irish reel at the end.
12. New Moon (DADGAD) (White/Petteway)
This title was inspired by a night on Swans Island, Maine, watching falling stars during a new moon.
13. Fairies' Walz (DADGBE)
Inspired by two of my favorite "little people," Rachel and Emily.
14. White Island (CAPO 3)
When the Romans first sighted the white cliffs of England's coast, they named the land "Albion" which translates as "white island."
15. Evolution (DADGAD)
This tune evolved during a period of unexpected changes in my life.