Celtic Circles

Bonnie Rideout ~ Fiddle
This CD is only available as a digital download from CDBaby and iTunes.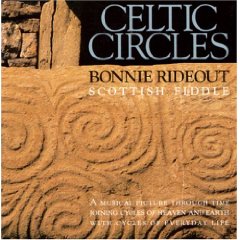 Inspired by the Celtic circles of ancient Scotland, Bonnie Rideout paints a musical picture through time, joining the heavens and earth to the cycles of everyday life. Performed on Scottish fiddle with gold medal piper Eric Rigler on the Great Highland bagpipe, Scottish smallpipes and uilleann pipes. Also accompanied by guitar, Celtic harp, viola da gamba, hammered dulcimer, bass and bodhran. Includes North Highland tunes from The Patrick McDonald Collection, 1784, pipe marches, strathspeys, jigs and reels, laments and traditional favorites: Flo'ers o' The Forest, Gillie Calum and Prince Charlie's Farewell to Scotland. (56:20 minutes)
"A vivid soundscape. One of the most rewarding and personal Scottish music recordings heard in a long time."

- Sing Out

"Bonnie's playing is exemplary throughout, with exhilaration and desolate beauty in equal measure."

- Rock 'n Reel, U.K.
Tune List

Listen to samples of tracks 1, 2, 3 and 12.
North Highland Tunes (5:22)
Pipe Major William Wilson (3:42)
Mary Do It Again / Cross Roads / Jig In A (6:36)
Lament of the Death of Sor Blanca Maria (3:10)
MacDonald, Lord of the Isles / Romance Air (4:33)
Gillie Callum / Highland Rant / Ryan's Rant (5:37)
Air to which Ossian is Recited (2:26)
The Boat Hoisted the Sails / Gone to Sea (4:16)
Bog on Lochan / Drowsy Maggie / Sleepy Maggie (2:56)
A Mother's Lament / Aisling (4:47)
Flo'ers O' the Forest (4:27)
Yell Yell (2:49)
Prince Charlie's Farewell to Scotland / Winyadepla (5:36)