Morning Aire

Sue Richards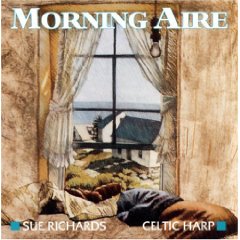 Celtic harp champion, Sue Richards brings a joyous and inventive spirit to traditional music from Ireland and Scotland. The evocative power of the Celtic harp has no greater genius than Sue Richards who was called "one of America's brightest stars" by the folk magazine Dirty Linen.
Voted #1 Album of the year!
WAMMIE Award winner resented by the Washington Area Music Association. (51:28 minutes)
"...a work of art. The clarity and tone of her instrument are among the most attractive attributes of her work. Her phrasing is often breathtaking on such airs as "Lament for Limerick" and "Cape Clear/Monaghan's Jig" where melancholy and celebration combine... surprising and inventive, the album enthralls and fascinates."

- Rock 'n Reel (U.K.)
Tune List

Listen to a samples of tracks 1, and 2.
The Humours of the Joyce Country (2:34)
The Rights of Man (3:16)
Princess Augusta/ Miss Grant's Reel (2:00)
Maple Leaf/ Bird in the Bush (3:10)
Haughs of Cromdale/ Sgian Dubh/ Keep It Up (4:18)
Lament for Limerick/ Lochaber No More/ Irish Lamentation (7:43)
Itchy Fingers (2:39)
Fiddler Dance the Light Strathspey/ Mor A Cheannaich/ Trip to Ponca City (3:47)
Cro Kintaile (4:00)
Cape Clear/ Monaghan's Jig (5:36)
Mabel Kelly (3:30)
Miss Hamilton of Auchincruive/ The Bonnie Lass o' Bon Accord (3:05)
Fanny Poer (3:42)
Tho I Go To My Bed, Little Sleep Do I Get (1:37)
Liner Notes
Musicians
Sue Richards ~ Celtic Harp
With special guests
Karen Ashbrook ~ pennywhistle
Myron Bretholz ~ bodhran
Billy McComiskey ~ button accordion, concertina
Connie McKenna ~ guitar
Charlie Pilzer ~ piano
Bonnie Rideout ~ fiddle
Carolyn Surrick ~ viola da gamba
Produced by Charlie Pilzer
1. The Humours of the Joyce Country (2:34)
The Irish air, "An Speic Seoigheach" collected by Edward Bunting at the 1792 Belfast Harp Festival. Celtic harp
2. The Rights of Man (3:16)
An Irish hornpipe named for Thomas Paine's declaration in defense of the French Revolution. We add some pep to it! Celtic harp, guitar, pennywhistle
3. Princess Augusta/ Miss Grant's Reel (2:00)
Two Scottish Melodies from the 18th Century. The first is from the Gow Collection; the second is by William Marshall. Celtic harp
4. Maple Leaf/ Bird In The Bush (3:10)
Two Irish reels, the first by Darach de Brun; the second is traditional. Celtic harp, button accordion
5. Haughs of Cromdale/ Sgian Dubh/ Keep It Up (4:18)
A Scottish set with a popular 400-year-old march commemorating a heroic highland battle; a jig named for the black-handled knife carried in the stocking; and a pipe reel from the Simon Fraser collection of 1874. Celtic harp, fiddle, viola da gamba, guitar
6. Lament For Limerick/ Lochaber No More/ Irish Lamentation (7:43)
A similar tune in variations from Ireland, Scotland and England. "Lament" commemorates a devastating Irish loss to the English in battle. "Lochaber refers to the clearance of Scots from their own lands by the English. "Irish Lamentation" is is the unwittingly ironic transformation by the English of these tragic tunes into a lovely waltz. Celtic harp, fiddle, viola da gamba, guitar
7. Itchy Fingers (2:39)
A contemporary pipe tune from Scotland, played first as a march and then as a reel. Celtic harp, fiddle
8. Fiddler Dance the Light Strathspey/ Mor A Cheannaich/ Trip To Ponca City (3:47)
Sweeping and graceful Scottish dances called strathspeys. "Ponca City" was written by American pianist Michael Briggs. Celtic harp, piano
9. Cro Kintaile (4:00)
The story of a Scottish widow's return to her birthplace to live out her days. Celtic harp, fiddle, viola da gamba
10. Cape Clear/ Monaghan's Jig (5:36)
An Irish air and a traditional Irish jig. Celtic harp, button accordion, concertina, pennywhistle, guitar, bodhran
11. Mabel Kelly (3:30)
A tune by the blind Celtic harper Turlough O'Carolan, written for a patroness. The air recalls, "Lamp loses light when placed beside her/ She is the pearl and being of all Ireland." Celtic harp, viola da gamba
12. Miss Hamilton of Auchincruive/ The Bonnie Lass O' Bon Accord (3:05)
More praise of Celtic women! The first tune is traditional, the second is by beloved fiddler Scott Skinner. Celtic harp
13. Fanny Poer (3:42)
Another tribute by O'Carolan to a County Galway patroness. O'Carolan liked to display his fluency in popular European styles. Celtic harp, fiddle, viola da gamba
14. Tho I Go To My Bed, Little Sleep Do I Get (1:37)
A Scottish tune from the Patrick MacDonald Collection of Highland Airs (1784). We like to speculate on the multiple meanings of this intriguing title. Celtic harp