A Hammered Dulcimer Collection
Maggie Sansone
Celtic, early music and multi-cultural improvisations that takes the hammered dulcimer to a new level with Sansone's trademark energy and grove based compositions.
This anthology features one of America's finest hammered dulcimer recording artists and highlights over twenty years of performances from nine recordings. Maggie says, "Along my musical journey, I discovered how diverse cultures separated by geography are linked by music's universal language, a thread from ancient to modern times- across centuries and boundaries." She features tracks that include Al Petteway on guitar, Sue Richards on Celtic harp, Bonnie Rideout on fiddle, Karen Ashbrook on pennywhistle, Robin Bullock on cittern, mandolin, guitar , Matthew Bell on bodhran and Bobby Read on woodwinds and saxophone. Sansone has been featured on CBS-TV Sunday Morning, NPR's All Things Considered,The Thistle and Shamrock and Sirius/XM radio. A perfect companion CD to Celtic Meditations (Sansone's anthology that features the contempletive side of Celtic)
Read more about Maggie Sansone's story in The Capital (Annapolis,MD) here
The CDs featured are Wind Drift, A Celtic Fair, Mystic Dance, A Civil War Scrapbook, Merrily Greet the Time, A Traveler's Dream, A Scottish Christmas, Dance Upon the Shore and Traditions.
A Hammered Dulcimer Collection- 1 sheet flyer
A Hammered Dulcimer Collection- The Press Release!
TUNE List:
click on titles below to hear audio samples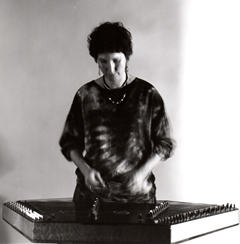 Total Time: 66 minutes
Liner Notes
The word "dulcimer," like the instrument itself, comes from ancient roots. The Latin gives us sweetness ("dulcis") and the Greek gives us the idea of song ("melos"). From the fertile middle ages, the playing of fixed and flat sets of strings with small hammers of various kinds can be found in cultures worldwide. While it was brought to America by early settlers from Europe, and used extensively throughout the 19th century (you could buy a good one through the Sears catalogue), with the advent of recorded sound the instrument fell out of favor: by the1930s, the tradition was only kept alive by loggers along a small stretch of the Ohio/Michigan border. When Elgia C. Hickok left from Sears, Michigan to appear at the 1964 Newport Folk Festival, a revival began. In 1971, Dulcimer Club was founded in West Virginia; and then in 1972 Howard Mitchell here in Washington published the hugely-influential The Hammered Dulcimer: How to Make and Play It. That book and accompanying recording marked the modern rebirth of this rich and ancient instrument.
Maggie Sansone has been a helmswoman in the current of this revival for nearly three decades. She heard her first dulcimer on the streets of Key West in 1979, and owns dulcimers made by Sam Rizzetta and Nick Blanton, who are both known for their innovations in hammered dulcimer design. In over 30 recordings she has championed and blended sounds from all traditions; as the goddess of Celtic radio, Fiona Ritchie, so wittily put it, Maggie presents music "with American roots and a Celtic soul…or maybe it's the other way around." Now, Maggie wouldn't say this about herself, but from the days of that yellow cart with the familiar Maggie's Music logo selling wares at Renaissance Fairs, she has been a tireless (and somehow cheerful) businesswoman, promoting other artists on her label, producing and marketing and managing distribution. Perhaps only a person aware of older traditions (and optimistic about future ones) could actually stay in this business!
The fan base that loves the dulcimer's "sweet sounds" seems to grow, and it was the demand to hear the works that feature Maggie most prominently that gave rise to the idea of this collection. We'll hearken back to the medieval roots of the instrument, track through some tunes from Scotland, Ireland, and Celtic Brittany, and (even though she doesn't like to talk too much about it) some samples of her own work.
Maggie's music (as distinguished from her label!) is playful, inventive, sometimes tinged with melancholy, and increasingly informed by interests in other world cultures. –Robert Aubry Davis