A Celtic Fair

Maggie Sansone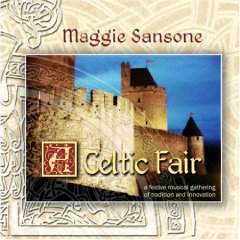 Come to the Celtic fair for a festive gathering of tradition and innovation, Celtic music, a Renaissance spirit, and with diverse instrumentation and spellbinding percussive grooves.
Performed on hammered dulcimer, Irish flute, fiddle, guitar, soprano sax, woodwinds, and percussion. Produced by Bobby Reed. (45:26 minutes)
Review ( DirtyLinen-Folk&World Magazine)
"Pensive tones, mystical auras and all manner of merriment… Sansone performs in that hold-your-breath emotive style that has the listener hanging onto every note. This collection rings with the rich melodies of centuries-old compositions, that lend a contemporary, groove based and new-age flavor. Dirty Linen Folk & World Magazine

"This outstanding album of centuries-old traditional tunes from the Celtic lands is masterfully arranged and performed by Maggie Sansone and her stellar guest artists. The passion and playfulness inspire the listener to dance and revel, just as it did hundreds of years ago."-New Age Retailer

Maggie Sansone has created a niche for herself playing Celtic music on the hammered dulcimer. She's an excellent, if not truly virtuosic, instrumentalist, and also quite handy on the Scottish smallpipes...it's a disc that delves quite deep into Celtic music, going well beyond the usual Irish and Scots tunes to dig into Brittany, and even move to England for "Maiden Lane." That doesn't mean it strives to be authentic, by any means. She's happy to utilize modern technology, like samples of bodhran and snare drum or soprano sax, along with guitar, accordion, and fiddle. There's a real swing to a set like "Dancing Reels," but she can deftly find the emotion at the heart of a tune like "Highland Boat Song." She's established a faithful audience for her work, and although some of the image might be new age, there's real substance to the music, a true love of the genre, and plenty of research to complement the musicianship.

All Music Guide (AMG)

"Sansone is a world class hammered dulcimer player who in addition to faithfully rendering traditional music, is able to combine ancient instruments with contemporary instruments to produce music that is engaging as it is memorable. Flawless performances."

-The Midwest Book Review

"Lovely! Fantastic! Wonderful new music from this amazing hammered dulcimer artist. When an artist takes time in between releases you know why... listen for yourself... this release was well worth the wait. Destined to be a hit with Celtic fans and beyond!"

- Liz Doan / Music Design Senior Buyer

"Intense versatility are two words that describe Maggie Sansone, and is certainly what she is on A Celtic Fair. If anyone can meld diverse streams of Celtic music seamlessly and combine them with unusual instruments besides her beloved hammered dulcimer Maggie Sansone can do it.

A favorite on this CD is "Celtic Jigs" ("Breton Jig"/"Castlebar" (Train To Dublin) where Maggie's hammered dulcimer gives a joyous back and forth banter with Bobby Read's sax. Another happy cut here is "Dancing Reels" (The Watchmaker"/"Highland Reel"/"Silver Spear" where she interfaces with Sara Read's fiddle and Rob Greenway's guitar, at the end pulling out all the stops. You will be delighted by these and will be playing them over and over.

The clarinet, also by Bobby Read, comes in too with the "Butterfly Slip Jig Set" (Comb Your Hair & Curl It, Barney Brallaghan) which is a slower paced, but equally intense and dramatic work. As does the Breton "Circle Dance" which is closer to it's original source and style than many another modern artist has approached as is "Breton An Dro." The expressive introspective "Highland Boatsong" (The Arran Boat Song) offers a change of pace, but Maggie will wrap you up in this music too! "French Renaissance Dances" (Premiere Suyte de Branles D'Ecosse) gives a fine finish to this CD. A superb melding of different styles here, by one of the finest. I recommend this CD to anyone who loves both innovation and the music."

- Celtic Beat Magazine (USA)

"Sansone opens up the perception of Celtic music far beyond the usual sources with a Celtic/jazzy sound that bubbles with life."

- Rock 'N' Reel Magazine (U. K.)

"A virtuoso with a world-class gift as both a player and arranger, Sansone interprets the folk idiom on an ancient instrument with a modern voice and presents the listener with a unique opportunity for mystery and mysticism."

- Women Today

" Harmoniously walking the tightrope between ancient Celtic cadences and progressive world beat sounds, Sansone easily fuses the best of past and present musical styles… lovely as it is stirring…a colorful modern dance…"

- New Age Retailer

The complete text from Dirty Linen Folk & World Music Review below:

The ancient hammered dulcimer, according to Maggie Sansone, has "followed the migrations of early travelers across Asia Minor to the European continent." And in these 12 pieces, Sansone and company have pushed that versatile instrument on into the 21st century. This collection rings with the rich melodies of centuries-old compositions, presented in ways their original composers could never have imagined. The arrangements include not only the typical Celtic mix — Irish flute, fiddle, bodhrán — but the addition of such instruments as woodwinds and even sax that lend a contemporary, even jazz-new-age flavor, creating pensive tones, mystical auras — and all manner of merriment.

Sansone performs masterfully on hammered dulcimer and smallpipes, along with Sara Read (fiddle), Rob Greenway (guitar, Irish flute, button accordion), and Paddy League (bodhrán). Most notable, however, is the contribution of Bobby Read (sax, clarinet, bass clarinet, flutes, accordion, woodwinds, keyboards, percussion). (He also performs with the Bruce Hornsby Band.) Read's innovative arrangements and seamless engineering allow the material to retain its Celtic sensibility, which is only enhanced by the some brilliant innovation. Standout tracks include "Breton An Dro," in which delicate string-reedy tones are overtaken by the silky, gentle swing of a sax. In this richly textured presentation, the artists demonstrate just how much can be accomplished within a simple, repetitive melody.

There are two jig sets, the typical toe-tapper "Breton Jig/Castlebar/Train to Dublin" (Sansone's original) and the more moody "Comb Your Hair & Curl It/The Butterfly/Barney Brallaghan." The lovely "Variations on an Irish Air (Pretty Girl Milking the Cow)" has all the emotional impact of the most heart-wrenching traditional song.

Throughout, Sansone performs in that hold-your-breath emotive style that has the listener hanging onto every note, awaiting the next bend in the road — and for sure it will be a delight.

— Linda J. Morris (Glen Rock, PA), Dirty Linen Folk & World Magazine
Musicians/Credits
Musicians
Maggie Sansone ~ Hammered dulcimer, Scottish smallpipes (Tr. 3, 9);
Bobby Read ~ soprano saxophone, clarinet, bass clarinet, flutes (wooden flute, C flute, alto flute, piccolo), keyboard, percussion, and drum programming
Sara Read ~ fiddle
Rob Greenway ~ guitar, Irish flute, button accordion
Credits Production, musical arrangements, engineering, mixing, mastering: Bobby Read, Small World Audio, Afton, VA, www.bobbyread.com ;
Executive Producer, musical conception, hammered dulcimer arrangements by Maggie Sansone;
Bodhran drum samples by Paddy League;
CD Booklet design: Amy White;
Cover Photo: Carcassonne by Galen Frysinger, www.galenfrysinger.com ;
"Forte" Hammered dulcimer with pedal dampers played by Maggie Sansone was built by Nicholas Blanton, Shepherdstown, West Virginia.
Tune List and music...

Listen to Train To Dublin- written by Maggie ( from Track 2-Jig medley)

Liner Notes from the CD Booklet
About The Music
In choosing this music, I was inspired by all of my musical experiences—from performing on large concert stages to joining in on Irish sessions at neighborhood pubs; playing a wedding processional march, and jigs for a children's maypole; offering an elegant pavane to King Henry VIII at a Renaissance festival and accompanying a set of reels for Irish step dancers at a Celtic fair. Come join us now for a festive gathering at the Celtic fair! Maggie Sansone.
Notes on the music
1 . Scottish Bransle (pronounced "brawl") A lively dance from the Renaissance published in Orchesographie (1589) by dance master Thoinot Arbeau ( 1520- 1595).
2. Celtic Jigs. Picture a musical journey starting on the rocky Brittany coast with the Breton Jig, traveling across the sea to Ireland with a stop at Castlebar , in the western part of Ireland, where you hop on a Train to Dublin , a 150-mile ride that will complete our journey! Thanks to Rob Greenway for teaching me Castlebar , the inspiration for my own composition, Train to Dublin.
3. Breton An Dro. An Dro (Breton : "the turn") is an open circle dance in 2/4 with dancers linking their pinky fingers. Brittany, one of the six Celtic nations is located on the northwest coast of France and still retains its Celtic culture and language to this day. Imagine a gathering of musicians in colorful garb, instruments in hand, heading for merriment and revelry at the castle fair.
4. Circle Dance. A traditional Breton tune called an An Dro,where the dancers link their pinky fingers and go around together in a circle.The melody is based on an ancient modal scale typical of Celtic music and combined with its repeating phrases it has a mezmerizing sound that draws you in this wonderful and mysterious world of the ancient Celts.
5. Dancing Reels The Watchmaker/Highland Reel/Silver Spear. These are well-traveled tunes heard in Northumberland, Ireland, Scotland and America.
6. The Butterfly Slip Jig Set includes Comb Your Hair and Curl It; The Butterfly , an Irish step dancing favorite that lends itself to jazzy rhythms; and Barney Brallaghan.
7 . Variations on Pretty Girl Milking a Cow. Solo hammered dulcimer. This begins with the melancholy refrain of the traditional Irish air and evolves into an upbeat mood.
8 . Highland Boat Song. A beautiful air from Scotland also known as The Arran Boat Song.
9. Round de Loudeac/ The Wren. A set of traditional Breton tunes.
10. Irish Reels. This set starts with Donegal Highland , played as a slow air that picks up tempo into two Irish session tunes, Mother and Child and Woman of the House .
11. Maiden Lane. An English country dance tune that has become the "hit tune" at the Maryland Renaissance Festival where my merry band of musicians and I play it for King Henry and his court. I perform all of the parts including a counter melody from Early Playford for Early Instruments, Book 2 (Marshall Barron, Playford Consort Publications)
12 . Four Renaissance Dances (Première Suytte de Branles d'Ecosse). Four 16th century Renaissance dance tunes called branles (pronounced "brawl") from The Attaingnant Dance Prints (1557) published by Pierre Attaingnant (ca.1529-ca.1557)
Thanks to Tina Chancey, Paul Oorts, Karen Ashbrook, Ken Kolodner, Paddy League, Richard Crenshaw, Connie McKenna, Betsy Chalfin, Emily and Norman Sokoloff and the staff at Maggie's Music.
More recordings featuring Maggie Sansone:Mystic Dance, A Traveler's Dream, Celtic Meditations, Dance Upon the Shore, Mist & Stone Traditions; and Holiday recordings: Sounds of the Season, Sounds of the Season II, Merrily Greet the Time, A Scottish Christmas, Ancient Noels.