Traditions

Maggie Sansone
~ Hammered Dulcimer
The roots of traditional music --Irish, Scottish, French-Canadian jigs and reels, beautiful Irish marches and waltzes and ancient melodies.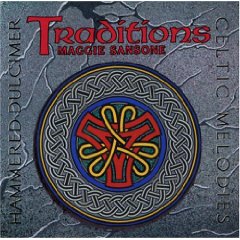 Over sixty minutes of music featuring one of America's premier hammered dulcimer and guest musicians in exciting ensembles fr0m toe-taping jigs and reels to haunting airs and renaissance tunes.
Includes music from the shores of the ancient Celtic lands to Amerca. Hear traditional tunes from Ireland, Scotland, England, Canada and America performed on authentic folk instruments by master players on hammered dulcimer, guitar, Celtic harp, fiddle and bodhran. A lively collection of jigs, reels and hornpipes from Ireland, with Scottish strathspeys, beautiful slow airs by18th century Irish harper and composer Turlough O'Carolan, French-Canadian tunes, medieval and Renaissance dances, and a country rag.
"Happy...haunting...it captures the essence of a unique kind of music." - Bookreader

"Sansone's playing is authentic, impeccable and utterly her own."- The Celtic Fringe

"Delicate and spirited performances... excellent!" Heartsong Review
Tune List

Listen to a samples of tracks below.
Boys of the Lough / Miss Monaghan (2:27)
Scotch Mist/Marquis of Huntley's Strathspey (2:19)
Abbots Bromley Dance (2:15)
Miss Patterson / Johnny's Gone to France (3:25)
Sailor's Hornpipe (2:47)
Parson's Farewell (4:48)
Stone's Rag (2:29)
Stream of the Cat / The Hunt (4:06)
Shandon Bells / Fair Jenny (3:11)
Bridget Cruise (3:00)
Ductia (3:10)
Reel de Montreal / Reel de Lapin (2:45)
Alexander's / Poppyleaf (3:33)
Planxty Browne (1:00)
Fingal's March (1:33)
Jack A Tar / Petronella (3:35)
Haste to the Wedding/Irish Washerwoman (3:05)
Over the Waterfall (2:15)
Sally Gardens (4:08)
Battle of Aughrim (1:13)
Greensleeves (1:13)
Dill Pickles Rag (2:24)
Si Bheag / Si Mhor (2:51)