A Scottish Christmas

DVD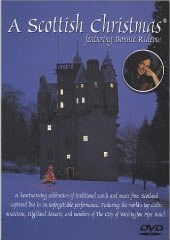 Sony/BMG special products produced the world's first Scottish Christmas DVD, A Scottish Christmas featuring Bonnie Rideout, and other recording artists from Maggie's Music record label along with award winning Celtic musicians and dancers.
It captures the live concert presented at the Macomb Center for the Performing Arts, Clinton Township, MI., on December 3, 2000 and presents traditional Scottish carols, familiar Christmas carols and songs, and Highland music and dance for the celebration of Christmas.
From the first plaintive notes calling forth through Rideout's emotional fiddle rendition of Oh Come, Oh Come Emanuel to the last stirring chorus of Robert Burns' Auld Lang Syne, an outstanding group of Celtic musicians presents a lively program, weaving the many moods of A Scottish Christmas.
This collection of traditional Scottish carols, wassail tunes, and dance music associated with the celebration of Christmas, Hogmanay (Scottish New Year's Eve), and the New Year includes such favorites as Greensleeves , God Rest Ye Merry Gentlemen , and Adeste Fideles . Gaelic songs and hymns popular before The Reformation such as Rorate and Baloo Lammy offer reflection into the gentler moods of Christmas, while jigs and reels such as From the Bottom of the Punchbowl and Ale is Dear bring out the merry spirits of the season. This delightful show is presented by some of the most legendary Celtic musicians from both North America and Scotland, blending the sounds of the fiddle, bagpipes, uilleann pipes, border pipes, clarsach (Celtic harp), bodhran (Celtic frame drum), hammered dulcimer and guitar. Traditional dancers add grace and excitement to this elegant program.
BMG has captured the extraordinary live moments of A Scottish Christmas on a new DVD released in September 2001, already garnering popular reviews from critics. After premiering on CBS-TV's SUNDAY MORNING and on NPR's PERFORMANCE TODAY, A Scottish Christmas has consistently sold out concert halls for five consecutive seasons. This immensely successful national touring show began with the blockbuster album by the same name on the Maggie's Music label, which rocketed into the New York Times "Top Holiday Picks" list in 1996, and has continued to be a national holiday best-seller for five years.
DVD Features:
Bonnie Rideout ~ Scottish fiddle
Tony Cuffe ~ guitar, vocals
Jerry O'Sullivan ~ Uilleann pipes, Scottish small-pipes, pennywhistle
Paddy League ~ bodhran
Maggie Sansone ~ Hammered dulcimer
The City of Washington Pipe Band
Robert McCowen ~ Highland dancer
Jen Schoonover ~ Highland dancer
More DVD information, bios and Tune List below.
The centerpiece of the show is Scottish fiddle champion- Bonnie Rideout who blends the traditional sounds of her Scottish fiddle with bagpipes, guitar, hammered dulcimer, pennywhistle, Uilleann pipes, Scottish small-pipes and percussion and with vocals-Scottish and Christmas songs and two Highland dancers. The immensely successful national touring show, A Scottish Christmas, has grown out of an equally successful album by the award-winning Celtic label, Maggie's Music. It was featured on CBS TV Sunday Morning, and on National Public Padio's Performance Today, which brought an avalanche of attention to the album, record label, performers and their release concerts.
The album became a national best seller and rocketed into the New York Times "Top Holiday Picks" list in 1996. This was the spark that launched the national tour with sell out shows throughout the United States. Dressed in kilts and velvet dresses, the performers deliver a show that is lively, elegant and emotionally evocative as audiences rise to their feet, arms linked, to sing Auld Lang Syne at the close of every performance.
BMG was looking for new Christmas product and it was a case of perfect timing when Maggie's Music, suggested a joint venture for A Scottish Christmas. A unique partnership was born between BMG- one of the world's largest music entertainment companies and Maggie's Music - an award- winning independent label known for its Celtic and Christmas recordings. With a Herculean effort, amazing short amount of time and immense preparation on everybody's part, the concert site was chosen and all conversed on the Macomb Center for the Performing Arts, a prestigious concert venue known for its state of the art facilities. The creative efforts involved executive producer Ed Osborne from BMG; Michael Micardi from Eagle Vision who filmed, engineered and produced the DVD; artistic director and star performer Bonnie Rideout & Maggie Sansone, performer & CEO of Maggie's Music.
Imagine a crisp Scottish winter day--air spiced with the scent of strong wassail, a dusting of snow, and the call of bagpipes over the Highlands. A Scottish Christmas is now available on DVD and CD. The DVD has extra features: instant song access, full motion interactive menus, two feature documentaries, full audio commentary track by Bonnie Rideout and Ed Osborne and both include: 5.1 Dolby Digital Surround and Stereo mixes; artist biographies, discography. (77 minutes)
The DVD Performers' bios and track listing is below:
Bonnie rideout ~ Scottish fiddle
One of the finest Scottish fiddlers of our time, Bonnie Rideout brings a brilliant virtuosity to the evocative music of the Highlands. From Scotland's Edinburgh International Festival to America's Kennedy Center, her fiery performances of ancient Gaelic melodies, strathspeys, jigs, and reels ignite the rich musical traditions of her Scottish heritage. A three-time U.S. Scottish fiddle champion, Bonnie has been featured on CBS-TV's Sunday Morning and NPR's Morning Edition, Performance Today, and The Thistle & Shamrock. In addition to a heavy touring schedule, Bonnie has authored six books for Mel Bay Publishing Company.
As a popular studio musician, dozens of folk and classical recordings display her name. Her solo albums include: new release Scottish Fire; Scottish Rant;, Kindred Spirits; Celtic Circles; Soft May Morn; Celtic Roots with Hesperus; and the Parents Choice Gold Winner, Gi'me Elbow Room: Folk Songs from a Scottish Childhood. Bonnie currently resides with her husband and three young children in Alexandria, Virginia.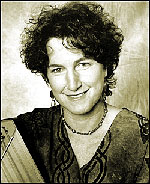 Maggie Sansone ~ Hammered Dulcimer
Bringing a unique vision to the ancient music of the Celts, Maggie's pioneering artistry has brought the ringing beauty of hammered dulcimer to thousands of music lovers around the world. She has been featured on CBS-TV's Sunday Morning and NPR's All Things Considered, Performance Today, and The Thistle & Shamrock. She has written seven music books for the hammered dulcimer (Mel Bay Publications).
Maggie is a sought after performer and teacher at major folk festivals and produced and tours with her shows "A Traveler's Dream" and "Celtic Christmas Celebration." Maggie is founder and CEO of Maggie's Music record label. The label, which features over thirty albums distributed worldwide, has received five "Record Label of the Year" awards from the Washington Area Music Association (Washington, DC). Maggie's solo recordings are: Celtic Meditations , A Traveler's Dream; Dance Upon the Shore, Ancient Noels (AFIM INDIE winner); Mist & Stone (AFIM INDIE winner); Sounds of the Season, Sounds of the Season II (AFIM INDIE nominee) and Traditions. *AFIM- Association of Independent Music.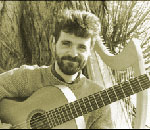 Tony Cuffe guitar, vocals(1954-2001)
This DVD contains one of the final and great performances by singer and guitarist Tony Cuffe; including a rare performance of Tony with his :"friend".. his Scottish puppet...an Appalachian percussion instrument called a limberjack . Tony was one of the most distinctive voices of the past three decades, first in the music and song of his native Scotland, and later in the Irish music scene of North America. He played with three seminal bands in the instrumental wave of the revival and his playing helped pioneer the transposition of Scots fiddle and pipe music to the guitar. He was a great performer, an inspiring teacher, and much loved by his family, friends and those who heard him.
Tony Cuffe was born in Greenock, Scotland on 6 April 1954 and died at Arlington, Massachusetts, USA on 18 December 2001.
Widely regarded as one of Scotland's best acoustic guitarists, his powerful voice is matched by a dazzling fingerpicked guitar style employing open tunings and drones in the arrangement of pipe and fiddle tunes. He is also an accomplished tinwhistle, harp, and harmonica player. He has taught at various festivals and summer camps including Augusta, the Catskills Irish Week, and Gaelic Roots. He was invited to take part in a St. Patrick's Day concert at the White House. Tony has recorded nine albums to date and is now working on a follow-up to his acclaimed solo debut When First I Went to Caledonia (Iona Records).
Jerry O'sullivan Uilleann, Small and Great Highland Pipes
Jerry O'Sullivan has been widely hailed as America's premier uilleann piper as well as widely recorded on the Irish flute, the tin whistle, Highland bagpipes, and Scottish smallpipes. Jerry has appeared on more than 60 albums, performing with The Boston Pops, Sinead O'Connor, Dolly Parton, and James Galway. Jerry has toured extensively in the United States and Ireland with fiddler Eileen Ivers, featured performer in River Dance, and has performed Scottish music with guitarist Tony Cuffe. He also has been a featured performer at Scottish country dances in the US.
Born in New York city, Jerry's first musical instrument was the Scottish Highland bagpipes. During summer visits to cousins in Dublin, he learned the uilleann pipes at the Piper's club on Essex street. As a former English teacher, he is also an experienced educator and has acted as a lecturer and demonstrator on uilleann pipes and Scottish pipes at festivals, workshops, and summer music camps. Jerry's mastery of the instrument, traditional knowledge, versatility, and dedication to education truly makes him America's premier piper. His two solo albums are The Gift (Shanachie) and The Invasion (Green Linnet).
Paddy League Percussion
Paddy League grew up in the musically diverse Washington D.C. area, and by his teenage years had acquired a strong background in jazz, Latin, and world percussion styles. His involvement in traditional Irish music initially came about through an interest, acquired from his grandfather, in the Irish language. He has since become one of the most respected percussionists and bodhrán teachers on the North American acoustic and traditional music circuit, maintaining a busy performance and teaching schedule. Paddy is best known for his innovative and exciting bodhrán playing, which blends his knowledge of the Irish tradition with the influences of his experience with other folk and traditional percussion. He is also a multi-instrumentalist whose talents extend to guitar, mandolin, bouzouki, and concertina. Paddy is a prolific recording artist who has been featured on over two dozen albums to date and tours with the Bonnie Rideout Trio.
Robert McCowen Highland dancer
Robert has competed in highland dancing on both U.S. coasts and has taught Scottish highland, step, and country dancing at camps and workshops throughout the U.S., Canada, and Japan. In the 1980's, he directed the New Caledonians, an innovative Scottish music and dance ensemble, and several Burns Night concerts featuring Jean Redpath at Harvard's Sanders Theater. In the 1990's, he performed regularly with the Strathspey and Reel Society of New Hampshire (including a tour of Scotland in 1996) and at various annual events in the Boston Area.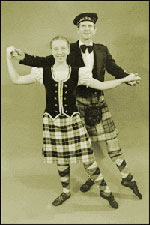 Jen Schoonover Highland dancer
Jen danced at Carnegie Hall and on Good Morning America with the New York Scottish Pipes, Drums and Dancers and around New York City with the Long Island Ravens Motorcycle Club pipe band. Since moving to Boston, she dances frequently with Robert McOwen and also enjoys dancing with Laura Scott's Highland Soles at Boston College's Gaelic Roots festival and at the Boston Scottish Fiddle Rally. Jen belongs to Back Porch Dance Company, a modern dance group, and performs for young audiences with the Peanut Butter and Jelly Dance Company.
The City Of Washington Pipe Band
The City of Washington Pipe Band has been one of the finest pipe bands in North America for over 30 years. In August of 1999, the band won First Place in the World Pipe Band Championships and the World Drum Corps Championships for Grade 2 in Glasgow, Scotland and was promoted by the Royal Scottish Pipe Band Association to Grade 1-one of only two American bands in the premier rank.
The band has performed for Presidents of both parties and for audiences at the Kennedy Center and the National Geographic Explorers' Hall. The band won a WAMMIE in 2000 from the Washington Area Music Association for "Best Celtic Group" (Folk category). Six members of the band performed on the DVD and video: Mike Green performs on Highland bagpipe and is the Pipe Major of the City of Washington Pipe Band and one of the top prize-winning soloists in the United States. Drum Sergeant Jon Quigg, who won the August 1999 Grade 2 drum Corps World Championship in Glasgow, Scotland. Jon competes as a solo drummer, serves as a drumming judge for the Eastern United States Pipe Band Association, and writes all of the drum settings played by the City of Washington Drum Corps.
Also featured on the DVD and video are band members: pipers Vic Frank and Ian Coletti and drummers Mat Bell and Gavin Lindsay. Known as the "piping fiddler", Bonnie began collaborating with the band in 1997 and produced and performed on their debut album, Scottish Rant (Maggie's Music).
Tune List
MEDLEY: Oh Come, Oh Come Emmanuel - 12th Century Latin Carol
God Rest Ye Merry Gentlemen - Late 18th Century/British Isles Morrison's Jig - Traditional Scottish Jig
Fir Tree Reels (Grants'/Innes'/Stuarts') - Scottish Straths & Reels
MEDLEY: Here We Come a'Wassailing - Traditional Carol/British Isles Bottom of the Punch Bowl - Traditional Scottish Country Dance
Greensleeves (What Child is This)
Rorate (Nativity) - Western Highlands Lullaby & Hymn
Sae Will We Yet - 19th Century Scots Song (Tony Cuffe)
MEDLEY: Highlands & Lowlands of Scotland/Kelo House/Miss Clementina Stewart - Traditional Scottish Reels
Angels We Have Heard On High and Jig -Maid at the Spinning Wheel (Maggie Sansone & Paddy League)
MEDLEY: Da Day Dawis
MEDLEY: Willie Sahanky's Jig/Bagdad Jig/Bagdad Reel/ Keflavkik Jetnest/ Oh, Come All Ye Faithful/ Amazing Grace
Christ Child Lullaby
MEDLEY: Christmas Carousing/Ale is Dear/New Christmas
MEDLEY: Deck the Halls/Tail Toddle/Paddy's Leather Breeches
Auld Lang Syne