Ceoltoiri
Features Irish singer, Connie McKenna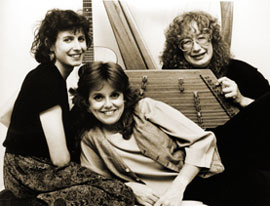 [

Jump to CDs ]
Irish Band Ceoltoiri (pronounced kyul-tory) makes music that breaks through traditional boundaries. With its trademark arrangements and chamber folk arrangement style of intricate harmonies and variations, the group creates haunting ballads and driving reels and jigs. The Washington Post praised the band for its "virtuosity and spirited performance." Ceoltoiri is Irish Gaelic for "musicians." Connie McKenna studied Irish Gaelic at University College of Galway in Ireland and sings in sean nos style. Sue Richards is a four-time National Scottish Harp Champion. Karen Ashbrook is the author of national bestseller "Playing the Hammered Dulcimer in the Irish Tradition" (Oak Publications).
"Superb, highly-accomplished performers who know their music inside and out."- Baltimore Sun
How to Order
There are several ways to order recordings from Maggie's Music. Click on CD title below and you will go to a new page to order directly from Maggie's Music through PayPal, or download from iTunes, CDBaby, and Amazon. Also, order by mail using the MAIL order form. Learn more...
Also appearing on...
See also:
More about Ceoltoiri Celtic Ensemble
Ceoltoiri Celtic Ensemble grew out of the friendship between Celtic harper Sue Richards and hammered dulcimer player Karen Ashbrook that developed over music sessions at the Irish Times in Washington, D.C. in the early 1980s. Karen was living in West Virginia and would hitch a ride into town for the sessions and then stay over at Sue's. Many a tune and late night conversations quickly turned into a performing duo.
Ceoltoiri made their first recording "Celtic Lace" (Maggie's Music 203) just as English/Irish Gaelic singer and guitarist Connie McKenna joined the band. The band was off and running with haunting ballads (yes, there were ghosts in some songs) and lacey instrumentals with the strings of all the instruments weaving together in a sparkling sound. Maggie's Music picked up the group and they produced two more albums of instrumentals and vocals - Silver Apples of the Moon (MM202) and Women of Ireland (MM218). Women of Ireland won the WAMMIE (Washington Area Music Award) for best Celtic recording of 1998.
Ceoltoiri 's appearances include NPR's All Things Considered, The Bethlehem World Music Fest, The White House, the Smithsonian Institution and National Geographic. Sue's harp career led her to join the touring band Ensemble Galilei. Currently, She performs with Ceoltoiri as a guest when available. Connie and Karen are often joined by multi-instrumentalist Paul Oorts (accordion, bouzouki, mandolin).
In the Ceoltoiri Family Band line-up of the ensemble, Karen's son (and student of Sue Richards) Gabe Ashbrook Osborne joins the group on Celtic Harp and sometimes Connie's husband Max Sadtler adds electric bass to give the group a big sound!