Celtic Tapestry (read more about this Time Life compilation that was praised as "A definitive collection of Celtic music."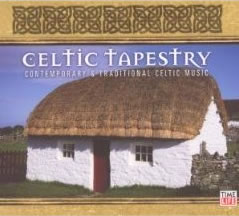 The 2 CD set collection has now 'retired' in this form but will go down in recording history as a primer for Celtic music neophytes during the peak of the Celtic music renaissance. We keep this album page, its liner notes and the links to artists page where the music can still be found. * The liner notes are worth reading for a great overview of the Maggie's Music label and its artists written by Grammy nominated music critic for the Rock & Roll Hall of Fame, Billy Altman:
Liner notes PDF page 1 ; Liner notes as PDF pg 2; Liner notes PDF pg 3- track details
If ever a two-disc collection tried to touch on all of the styles within one genre, this probably comes closest to complete success. The Maryland-based independent label Maggie's Music was at the forefront of the worldwide revival of Celtic music for much of the last 20 years, and Time Life has assembled some of the best from that production.

The mixture of styles here is as far-ranging as possible, from medieval dances to contemporary Celtic music. Of course there are the usual Irish reels, jigs, ballads, and dances that frequent typical Celtic anthologies, but also heard are haunting sounds of world music, jazz, and Appalachian roots. As the title points out, this is indeed a tapestry of Celtic forms.

The mostly instrumental assortment of 32 tracks is performed by the label's diverse stable of talented musicians, who have built reputations as some of the top artists in their field. While their names are likely unfamiliar to those getting their first taste of Celtic tunes, one listen to this package will have you scouring the music bins for their solo releases. - Ken Rosenbaum Toledo Blade
All of the music featured on this compilation can still be heard by clicking on the artist name below and going to their artist page.
Disc One
Disc Two
The two discs that comprise Celtic Tapestry have been assembled from the vaults of Maggie's Music, a label focusing on what commentators have referred to "chamber folk." What is chamber folk? One enjoyable example is Bonnie Rideout's Miss Gordon of Park/ Craigellachie Lassies/The Honourable Mrs. Drummond of Perth's Delight. A lead fiddle, backed by light accompaniment, weaves a series of instrumental pieces together seamlessly. The small ensemble delivers these instrumentals so gently, pleasantly, that it would be quite easy to imagine these selections slipped between two classical quartets during an evening concert. Many other artists follow a similar route on Celtic Tapestry . The majority of the selections are instrumental, interspersed with a handful of vocals including Ceoltoiri's Killarney Boyus of Pleasure/Oro 'Se Do and Amy White's Lagan Love. The operative word, whether speaking of the Celtic style or the 32 selections on these discs, is "tapestry," because the beauty of the collection is built upon the careful arrangements of individual songs and instrumentals as well as the way everything ebbs and flows together. While Karen Ashbrook's Curlew/Green Hills of Tyrol is distinctive from Robin Bullock's The Rakes of Clonmel/The Trip to the Cottage, it also serves to prepare the way for it. Placing both of Celtic Tapestry 's discs in the player, then, is a lot like listening to a relaxing, two-hour radio show without commercials. For listeners who enjoy the lighter side of Celtic music, Celtic Tapestry is an agreeable, well-assembled collection.

- Ronnie D. Lankford Jr., All Music Guide
Press Release from Time-Life Records
Time Life announces the release of Celtic Tapestry: Contemporary and Traditional Celtic Music , marking the most recent phase in the company's ongoing commitment to bringing various types of roots music to wider audiences through partnerships with genre-defining record labels. Culled from the extraordinary collection of albums released by Maggie's Music, Celtic Tapestry is a definitive anthology of Celtic music.
For more than 20 years, Maryland-based Maggie's Music has been a leader in the international Celtic renaissance, combining the energy and spirit of traditional music with the intricate harmonies and depth of classical interpretation. With a blend of styles called "chamber folk," Maggie's Music recordings present many sides of the Celtic experience. Its artists have gathered and recorded a range of Celtic-inspired music, from authentic medieval dances found in the earliest written music to today's improvisations on Celtic themes.
This Time Life project captures the genius of Maggie's Music in a collection of historical yet timeless sounds that personify today's Celtic spirit. The record label came to national attention when it was profiled on CBS television show "Sunday Morning." The label has won a number of prestigious awards from the Association of Independent Music Labels, and eight "Record Label of the Year" honors from the Washington Area Music Association. Senior Vice President of Time Life's Retail Music Division Mike Jason said, "We are thrilled to bring culturally and creatively significant music to existing and new fans, and we are especially pleased to be working with Maggie's Music founder, Maggie Sansone."
The past two decades have witnessed a tremendous surge of interest in Celtic music. The international success of shows such as "River Dance" and "Lord of the Dance," the enduring popularity of The Chieftains, and the devoted audiences that attend Celtic festivals and Renaissance Fairs nationwide reflect a growing fascination with ancient musical genres and all things Celtic. Maggie's Music is at the forefront of American record labels who provide a nurturing environment for a host of exceptional Celtic acts.The label was founded in the late 1980s by Sansone, a renowned hammered-dulcimer musician, and focuses on the breadth, variety, and quality of Celtic and Celtic-inspired music.
The dazzling work of talented artists is on display in Celtic Tapestry , a collection which Sansone calls "a diverse blend of colors and sounds, just like a tapestry, where each thread contributes to the beauty of the whole." The listener will hear Celtic and early music instruments combined with a New Age spirit using a wide variety of instruments and influences from world music and American jazz. "Alongside sophisticated harmonies and percussion, you might hear elements of world music or even an American jazz ensemble or string quartet," says Sansone. "Our music that has something for everyone."
The two-CD, 32-track collection is structured to serve as both a primer for Celtic music neophytes and a must-have for devout fans. " To millions of enthusiastic listeners, 'Celtic' means more than a specific place or a time—it's a timeless spirit, a sensibility, a groove," says Sansone. The set is organized both chronologically and geographically, embracing early and Renaissance music, classical Scottish drawing room styles, the Irish reels, jigs, ballads and marches brought here by waves of immigrants to the New World , Appalachian music and contemporary sounds from the present. Young artists play new interpretations of ancient melodies using a dizzying array of traditional instruments such as the fiddle, Celtic harp, Irish button accordion, Scottish and Irish bagpipes, pipes, Irish flute, pennywhistle, and bodhran as well as bouzouki, viola da gamba, recorder and hammered dulcimer.
The anthology draws together music from the Celtic Nations: Irish, Scottish, Welsh, Breton ( Brittany in France ) and Galician ( Spain ). It showcases some of the leading artists in the field, with the duo of Karen Ashbrook and Belgian instrumentalist Paul Oorts; Ashbrook as a solo artist; Robin Bullock; the band Ceoltoiri (also known as Ceoltoiri Celtic Ensemble) with Irish Gaelic singer Connie McKenna; Ken Kolodner; Jody Marshall; contemporary acoustic duo Al Petteway & Amy White; Celtic harpist Sue Richards; fiery Scottish fiddler Bonnie Rideout; The City of Washington Pipe Band; the Ensemble Galilei; the traditional and early music ensemble Hesperus; and Sansone herself in a jazzy crossover style she calls "cool Celtic."
About Time Life Inc: Headquartered in Fairfax VA , Time Life Inc. is one of the world's largest direct marketers of audio and video products, selling more than 13 million units each year throughout North America, Europe, Asia and Australia , The company now also sells their products through major traditional and non-traditional retailers around the world as well as via the Internet. Time Life is a registered trademark of Time Warner Inc. used under license by Direct Holdings Americas Inc., which is not affiliated with Time Warner Inc.
Liner Notes
(For a complete track listing, send email to mail@maggiesmusic.com)
The past two decades have witnessed a tremendous surge of interest in Celtic music—an interest that is in many respects attributable to the fact that Celtic music represents an ongoing, intertwined celebration of sound and spirit. The jigs, reels, hornpipes, airs and ballads from Ireland, Scotland, Wales, Brittany, Cape Breton and beyond that comprise the genre's basic repertory stem not only from centuries-old musical traditions; they're also rooted in the ever indomitable nature of the people, who have proudly kept the music—and the culture surrounding it—alive and vibrant from generation to generation. It's also just great music to listen to. From informal "sessions" in which players gather to share tunes and songs, to more organized ceilis (dances) and full-fledged fleadhs (festivals) that draw the committed as well as the curious, the contemporary Celtic scene is thriving as never before.
Another reason for the recent flourishing of the Celtic scene, especially in the United States, has been the accompanying rise of important independent labels featuring Celtic music. One of those at the very forefront is Maryland-based Maggie's Music. Since being founded in the late 1980s by renowned hammered-dulcimer player Maggie Sansone, the label has provided a nurturing environment for a host of exceptional Celtic musicians.
It is the dazzling work of these talented artists that is on display in Celtic Tapestry , a collection that showcases what Sansone has described as chamber folk: "a blend of Celtic and early music instruments, a New Age spacious quality, and the kind of sophisticated harmonies and variations you might hear in a string quartet." And whether it's Sue Richards's stately harp or Bonnie Rideout's fiery violin, it's all part of the magic of Celtic music, which, as Sansone says, "speaks directly to the soul."
A native of Miami who grew up learning a variety of instruments, Sansone began her love affair with Celtic music after her move to Baltimore in the mid-'70s, where she began participating in Irish sessions at local pubs. It wasn't long afterwards, on a trip back to her home state, that she happened upon a street musician playing the hammered dulcimer. Captivated by its sound, Sansone began studying the unique instrument, the strings of which are struck with small mallets. Her mastery of it became apparent by the mid-'80s, when her self-produced, self-released recordings began to attract attention throughout the country. In the early '90s, inspired by fans who kept inquiring where they might find more of "her kind" of music, Sansone began signing like-minded musicians to her label, and as of 2006 the Maggie's Music roster has grown to include the dozen acts included here.
Karen Ashbrook's delicate touch and shimmering lilt have earned her a well-deserved reputation as one of the preeminent hammered-dulcimer players in Celtic music; her talents extend to the wooden flute and pennywhistle as well. She's represented here by Curlew/Green Hills of Tyrol and Crested Hens/ Laridé , both featuring her distinctive ornamental style on the dulcimer, and by Behind the Bush in the Garden/Sgt. Early's Dream/Lady Anne Montgomery , a track highlighted not only by Ashbrook's deft flute and whistle work, but by modern elements of jazz and swing as well.
Four-time U.S. National Scottish Harp Champion Sue Richards has been hailed as an artist whose graceful phrasing evokes that breathtaking place where "melancholy and celebration combine." Richards brings a chamber music hall–like intimacy to pieces such as legendary 18th-century blind Irish harpist Turlough O'Carolan's Miss Murphy , while Maple Leaf/Bird in the Bush and the evocative Nyth Y Gwcw (Cuckoo's Nest) illustrate her nimble style.
Ashbrook and Richards are also members of Ceoltoiri, a trio rounded out by guitarist/vocalist Connie McKenna. The group, whose name is pronounced "kyul-tory" ("musicians" in Gaelic), specializes in, on one hand, rhythmically driving reels and jigs (e.g. Hunter's House/Kiss Me Kate/Maid of Mt. Kisco ), and, on the other hand, slow, folk-based ballads such as the haunting The Cruel Sister . McKenna, who studied Irish Gaelic at the University College of Galway, can be heard singing in sean nos style in Sean Dún na nGall (Old Donegal) , the English lyrics to which she wrote for her sister's wedding, and in Oro 'Se Do .
Scottish fiddler Bonnie Rideout plays with a passionate style and a technical precision that have earned her the National Scottish Fiddle Championship three times. Typical of her repertoire, which runs from traditional dance tunes and Highland bagpipe marches and reels to ancient Gaelic airs, her selections here include the skipping Mrs. Gunn's Strathspey/Sweet Molly/The Wise Maid and the brisk Brose and Butter/Cuzle Together/Elsie Marly—pieces dating back to the 1700s yet rendered with modern verve by this dazzling performer.
The husband-and-wife team of Al Petteway and Amy White is an award-winning acoustic duo whose forte is an eclectic mix of Celtic-influenced traditional and original music. Best known for his intricate finger-picking guitar, Grammy Award winner Petteway is featured as a solo in the harp-like The Red-Haired Boy and in the slow ballad Eirigh Suas A Stoirin (Rise Up My Love) . He also provides sensitive accompaniment for vocalist White in the wistful Lagan Love and the bittersweet If I Were a Blackbird .
Robin Bullock is another expert guitarist whose mastery of the flat-picking style has earned him praise from Celtic and American roots music critics alike. His understanding of the connections between the genres is evidenced by Johnny Don't Get Drunk/Miss Monaghan , the former being a bluegrass-paced Appalachian variation on the latter, an older Irish reel, with sections reversed.
Fiddler/hammered-dulcimer player Ken Kolodner was an early bandmate of Maggie Sansone (in the late-'70s Irish group Kids on the Mountain), and he has performed alongside Robin Bullock in several acoustic trios, including Greenfire. Widely regarded as one of traditional music's finest and most knowledgeable artists, he's heard here in the American fiddle tunes Lady of the Lake/Farewell Trion/Shenandoah Falls and in the French-Canadian-based Polka of the Setting Sun/Reel Antoinette .
Frequent performers at the Smithsonian Institution's National Museum of American History, the multicultural ensemble Hesperus also explores musical and cultural links between the past and the present. Co-founded by the late Scott Reiss (recorder, whistle, hammered dulcimer) and his wife, viola da gamba/fiddle player Tina Chancey, the group is represented here by the 18th-century Irish jigs Strike the Gay Harp (Jackson's Night Cap)/Langstrom's Pony (Farrell's Pipes) and by the American Bobbing Joe Medley .
Befitting her personality as an innovative and imaginative instrumentalist, pianist Jody Marshall's repertoire ranges from J. S. Bach to Jethro Tull. "A musical toast to simple pleasures" is how she describes her pastoral original composition A Cottage in the Glen .
Ensemble Galilei is known for its joyous mix of everything from medieval chants and Renaissance dance music to Baroque chaconnes and Irish jigs. It's those jigs that are given characteristically lively treatment in Bottom of the Punch Bowl/The Man Who Died and Rose Again/Ward's Jig/Apples in Winter .
The City of Washington Pipe Band is a former first-place winner in the World Pipe Band Championships, held in Glasgow. The Spanish Asturian Reels and Jigs and the beloved pipe-band tune Scotland the Brave are fine examples of a team famous for its captivating precision.
Finally, as previously noted, Maggie Sansone is known worldwide as a performer, producer and teacher of the hammered dulcimer, as well as the driving force behind Maggie's Music. She's represented as a solo artist in this collection by the sprightly Tyrone March/ Cooley's Reel and by the haunting 17th-century air Give Me Your Hand . She is also featured, along with Bonnie Rideout and Al Petteway, in Christmas Carousing/Ale Is Dear/New Christmas , from the immensely popular CD (and concert DVD) A Scottish Christmas . Like everything else on Celtic Tapestry , the performance lovingly conveys the beauty and spirit-lifting power of Celtic music—which, as the saying goes, springs "from the deep well of our ancient folk traditions." —Billy Altman Billy Altman is a Grammy-nominated music critic and was formerly assistant curator for the Rock and Roll Hall of Fame and a longtime editor of Creem . His work has appeared in such publications as the New York Times , the New Yorker, Rolling Stone, Esquire and People.