Alta
Ensemble Galilei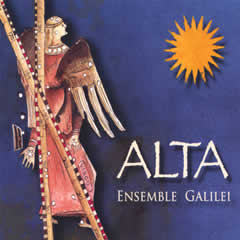 Ensemble Galilei is an group of players from both classical and traditional backgrounds, playing Irish and Scottish airs and dance tunes, Early music and Medieval music, and original compositions with Liz Knowles on fiddle; Sue Richards on Celtic harp; Debbie Nuse on Scottish small pipes and fiddle; Kathryn Montoya on recorders, whistle, shawm and oboe; and Carolyn Anderson Surrick on viola da gamba.
Guest musicians include percussionist, Laura Jordan, and renowned uilleann piper and whistle player Kieran O'Hare. Their work matches the brilliant virtuosity of the group.
Includes: a medieval set of dances is followed by an Irish march, followed by an original composition. A breathtaking, deeply orchestrated lament by Turlough O'Carolan followed by a stunning six minute fiddle solo. Recorded at Bias Studios in Springfield VA, with award winning engineer, Bob Dawson, and mastered by Airshow's Charlie Pilzer.
Tune List
Ductia/La Ultime Estampie Real/Salterello
The Exile/The Rolling Wave
The Watershed
Old Innishowan
Sir Arthur Shaen
Sir Ulick Burke/ A trip to Galway/The Broken Pledge
Alta la Spagna
What Strikes the Clock?
Bonnie Jean of Aberdeen/O'er the Moor, Among the Heather
Flanagan's Waltz
Wat zal men op den Avond doen
Taimse in Choladh/Planxty Drew/Morgan Magan
Ground after the Scotch Humour
Oidhche Mhath Leibh
The Labyrinth/Black Magic/Alexa Mason